Various Artists - Kad Te Moja Čakija Ubode [Terror - 2012]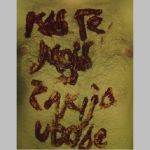 "Kad Te Moja Čakija Ubode" comes in a box, sealed with a sticker; containing a tape and an A6 booklet inside. The booklet tells us that the compilation celebrates a documentary by Bosnian director Krsto Papiè, and gets its name from the same source. This short film is a gritty exploration of murders carried out in villages, with drunkenness and knives featuring heavily. There's a mundanity to the murders, that makes the documentary all the more horrifying. The tape contributors are split geographically, the first side belonging to Balkan noise projects, and the second to Lithuanian projects.

The "Balkan" side has four tracks and all of them pursue and explore Harsh Noise Walls. The first, by Dead Body Collection, is two walls divided by samples from the film; moving from savage, biting textures to more brooding low end rumbles. The sections where the first wall dissolves before the sample, and where the second wall rises up out of the same sample, are quite beautiful. The next piece comes from Sturmgeschutz and, in direct contrast to the preceding track, its a juddering, trebly scuffing - an abrasive, fast-paced irritant that gives no quarter. Gigant is up next, with another contrasting atmosphere and sound: a low, fuzzy lumber; with itchy crackling over the top. Its the warmth of a welcoming fire; and although there is dread lurking in its depths, it really is a rather "pleasant", calming track. The last piece on the first side is "Untitled" by Placenta Lyposuction. At over twenty minutes long, its by far the longest contribution to "Kad Te Moja Čakija Ubode" (most of the preceding tracks hover around the ten minute mark, whilst those on the second side range from five and a half minutes to eleven minutes long) and is a pleasing, fizzing obliteration. There's a brittle character to some of the crackle, like the snapping of a thousand twigs - very nice indeed.

Turning the tape over to the "Lithuanian" side, we find five (essentially) very different tracks. The first is from Pogrom, and straight away marks a deviation from the Balkan HNW contributions. After another sample from Papiè's film, we enter a low-end churn; layered with reverberating junk abuse (thuds, rattles, scrapes) and infrequent electronic squiggles. This builds into rhythmic clanking, with shouted vocals over the top; before it returns to the bassy murk - ending with a burst of feedback and a sample of chanting from the documentary. Its a really rough track - there's nothing pretty to be found at all, especially when the vocals enter; but it does possibly outstay its welcome. The next piece is from Vidinë Ramybë and is the shortest contribution to the "Lithuanian" side (and indeed the entire compilation), as well as being the only HNW contribution. Its an energetic, fast, whirling wall; with strong mid-frequencies driving more trebly fizzing. A fearsome, scourge of a track; but also over before you know it. "Srbosjek", by McKaras, arrives next; with a somewhat singular sound on the tape: feedback, shimmering delay twiddles, chopped up pedal noise and echoing vocal declamations. Its a very competent track - agitated and chaotic, with the vocal sections nicely spaced out to provide a structure and tension. The penultimate Lithuanian track is somewhat of a curiosity. Whatever Oorchach's intention were, "Að Prapjausiu Tavo Bûgnus" feels like a fantastic, trashy, motorik dance track to me. It begins with an utterly monotonous drum charge, and never falters from that path. This headlong sprint is accompanied by a lurching line somewhere between a drone and a bass-riff, and although the track builds and becomes noisier, the sprint never drops. It sounds like the most primitive of offcuts from a forgotten krautrock band - a black metal Neu, if you will. Ending "Kad Te Moja Čakija Ubode", we have a short, dark drone from Girnø Giesmës. It has a "breathy" quality, and an eeriness created by creeping high pitched whines - a welcome, if barren, contemplative space on the second side of the tape.

This is a great compilation, nicely held together by an unifying theme and contrasting geographies. Although the "Balkan" side does concentrate on Harsh Noise Walls, the Lithuanian contributions balance this out with different approaches to the same subject matter. Its a cliche, but there is something here for everyone - as long as they like noise and knives.






Martin P