Permanent Makeup - The Void...It Creeps [No Clear Records - 2013]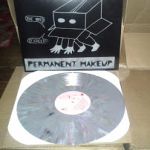 "The Void...It Creeps" is the debut full-length by punk/post-punk trio Permanent Makeup. If they were from D.C., this album would no doubt be the current pride and joy of Dischord, but since they're from the Sunshine State this slab of wax is available from No Clear Records (also available on CD via New Granada Records). Permanent Makeup consists of guitarist James Bess, bassist Chris Nadeau and drummer Susan Dickson-Nadeau. No strangers to the DIY underground, members have also kicked it (or are currently kicking it) in a number of Tampa Bay area bands including: Blast & the Detergents, Egos, Dumbwaiters and Insect Joy.

The packaging, in DIY fashion, is hand-screened with glow in the dark ink. The artwork is by their drummer Susan (who's also a prolific zinester), featuring a cartoonish figure creeping along on all fours covered by a box with eye holes. The vinyl itself is of the mixed swirl variety, mine looking like someone smeared a melted star pop along some fresh concrete and comes with a download card to boot. Sexy!

I very rarely use the phrase "lose my shit" to describe my excitement over a record, but on this rare occasion it's entirely appropriate. Pulling from such references as: Wire, Joy Division, Mission of Burma, Sonic Youth, and other art punk luminaries; Permanent Makeup manages to create something that sounds very familiar (undeniably Dischordesque), yet refreshingly new.
The album itself is near perfect from beginning to end and I don't say that lightly. Short, but sweet most of the album's 12 infectious tracks clock in at under the 3 minute mark. A few seconds into the feedback laden opening track "Pose Bust" and it's on! After a few toe-tapping, hand clapping songs; Track 4 "chemtrails" roles along to poke fun at conspiracy theorists. Mid-way through "Signal or Noise" is an anthemic song, punctuated by some quasi-surfish guitar and drumming. The closing track "Deconstruct it" lyrically follows that old punk dictum...question everything. Ending at around the 30 minute mark, "The Void...It Creeps" is a swift kick in the pants....just the way a great punk record should be.

Permanent Makeup have managed to create a formula that bridges the old with the new, be lyrically poignant, instrumentally intricate, and still be fun as all hell. That my friends is no easy task. The year is young, but with confidence I can say this one will be on my best of list come December.






Hal Harmon