A.R.GH - Textures [self-rele​ased - 2012]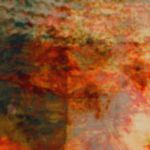 A very minimally packaged cdr here, apparently self-released. The computer-printed inlay wraps around three untitled tracks, all of which are exactly the same length - just shy of nineteen minutes. Given the title, the uniform track lengths and the abstract artwork, the listener might well expect a release full of formal, concentrated, static textural explorations; but whilst there are elements of this, its a much more wide-ranging album.

Arguably, the second track is closest to a concentrated study; with the entire piece exploring a low-end juggernaut rumble and subdued mid-frequency crunch. At points, the bass becomes truly overbearing, but on the whole, it lurks with dread; this gives the track a really brooding feel, which is aided by the infrequent appearance of detailed treble scratching and crackle. The third untitled piece has similar levels of intensity, in terms of stasis and boundaries. Although not as restricted as the second track, it starts with a nice, reverberating "hollow" wall (at later points, it's almost akin to nails swirling in a bucket), and builds from there. Although it does develop into harsher textures, with excellent flecks of crackle waxing and waning, the track as a whole has a very nicely measured intensity; there are a few "break-outs" of more open textural noise, but overall its controlled and restrained. This restraint is less evident in the first track, which is probably the noisiest of the three. It's also the most open and chaotic, with very active textural lines that often threaten to surge into crushing oppression, without ever reaching those peaks. The piece is founded on a speeding low throb and mid-frequency crackle, which soon bursts into harsher territories with trebly scrapes after a few minutes. But for all this agitation, there is still a sense of restraint, of holding back - the track never breaks wide open into complete annihilation. This sense of restraint and "formality", though, is tempered by the use of several "non-wall" elements, or passages without pretence of stasis. Indeed, at the very start of the piece, there are very brief washes of hiss and other textures, which appear and then disappear just as quickly. As well as this, there are lots of details moving about just under the surface; loops (?), ghostly echoes, sometimes even "acoustic" sounding elements. The track ends with frail, high pitched synth buried in the wall; and although there are some of these sub-surface elements in the second track, its this first one which makes most use of them.

When "Textures" is good, its certainly good; but at other points, it isn't so engaging. There's a lack of rigorous consistency: some nicely detailed texture will then be followed shortly by rather negligible "ordinary" fizzy distortion. This is an obvious danger with more active Harsh Noise Walls; but as a plus point, this activity leads to multitudes of different textures - though it would have been nice to hear these things dwelled on longer. Nevertheless, there are some excellent passages on "Textures" - if nothing ecstatic.






Martin P