Sink - Holy Testament [Svart Records - 2013]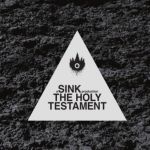 Sink's sequel to Holy Testament (aptly titled Holy Testament 2) is released by Svart Records as a limited 12" and a 2xCD. The CD release (on which this review is based) compiles both Holy Testament LPs. So, if you're awesome and handsome like me but also happened to miss the first Holy Testament, you're in luck. While both albums are supremely similar in style and composition, they take slightly different paths to get there.

When I first caught the band name, Sink, I laughed. I just thought of the plumbing fixture and how brilliant of a name it is. However, reason took over and I figured it meant more to do with submerging than anything else. With that, I developed a greater appreciation for the darkness contained on this record. This could be because I currently feel like I'm drowning everyday and Sink and I share some kinship. Anyway, enough of the therapy session. Holy Testament is a wonderful mixture of drone, black metal, doom, industrial, and noise. The highlight for me is "Ritual." There are chant-like vocal drones, echoes, feedback and sparse drums. It feels like Mola Ram could appear at any minute. Instead, though, Ichiro Tsuji pops by...well, not literally. Rad noisy industrial sweeps into the picture and joins right in with the chanting ritual. This song has almost all of Holy Testament compressed into six minutes. Totally great. As mentioned above, it's not all drone and Indiana Jones villains. "Ritual Transfigured" and "Justice" are drone laden black metal tracks. Cool ones, too, 'cause they get semi-noisy at times and it breaks up the guitar monotony. The second half of the release is Holy Testament 2. While drones still abound, the black metal seems to be replaced by more industrial sounds. There is a lot more synth work in this half, and it works very well. "Descending Skies" is based on a tight, quickly oscillating synth drone with dirgy synths floating on top. I could definitely see this as being either in a horror or sci-fi movie. "Parallel" and "Into the Current" both have strong industrial vibes to them. "Parallel" plays like a lo-fi Neubauten at times and "Into the Current" feels like a dirty, dirty Chemlab track (there's probably a way better comparison, but whatever). There are pounding drums over a distant noise, guitar hums, and echoed/looped feedback. The vocals are totally 90's industrial as well. "Dominion" is the catch all track on this record. Super low drums, fuzzed out guitars, drones, noise, chants...you name it. It is a solid track that is lessened by it's overlong runtime (16+ minutes).


Holy Testament 2xCD is a quality showcase of downer music. Whether it's through drone, industrial, or black metal, Sink really delivers the goods. If you feel like your sinking and need some company, crank this release!






Paul Casey