Das Synthetische Mischgewebe - Hapax (Legomenon) [Phage Tapes - 2012]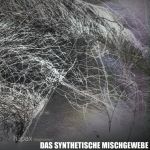 "Hapax (legomenon)" finds this creative & long term German/ French electro acoustic noise project offering up three long pieces of edgy improv noise, which are built around manipulated & amplified everyday objects such as electric motors or applied mechanics. The release comes in the form of a pro pressed CD, in an edition of 500 copies.

The tracks offered up here are created by the re-composition of live recordings that were made across Europe & Russian between 2003 & 2011. The three tracks last between just under the seventeen & a half minute mark to just over the thirty five minute mark. The first track starts up with a fairly stripped back, murky & edgy mixture of taut textural scrapes 'n' simmers. As the track progresses subdued metallic vibrations & warbles are added, along with electro scuttling 'n' worming, subdued honks. And all manner of detailed whirls, churns, clunks and judders. The track remains very much controlled, yet at times feels on the edge of all out noise assault….yet it never fully goes there save for a few sudden/ flitting darts & burst. The track very much gives one the impression of travelling over some weird & slightly off-kilter electro mechanical land scape that's slowly whiring, churning & glitch-ing below you. And though it's certainly noise based & taut I found the whole thing quite relaxing in an odd sort of way.

Track two once again starts in slowed & stripped back form with these subdued sort of lines of dragging/ winding/scraping tonality- which seem very close & enclosed somehow. As the track moves towards the third minute more subtle & controlled textures are added like: grazing creaking's, whine & bends, distant scuttling, faint at times piecing hums 'n' honks, & all manner of scrapes & revolving like crackle dwells. To start with the track brought to mind someone trying to carefully descend a tall structure, that's made up of many pieces & is on the edge of falling apart- but as it progresses it becomes a little more full. This track once again builds-up in tension/density, shifting between dense accumulations of small texture & more thined backed whirling & creaking lined dwells

Track three starts with a slow mixture of unreeling, creaking & distant machine droning. Once again as the track progresses a series of small & detailed textures are slowly but surely added on the mix, and these take in: scuttling & bends, wavering yet distant junk like shifts & forks, all manner of tinny metallic scrapings & pokes, hazed junk vibe like jitters, arching & scraping machine drones, & the odd hints of sing song wails & lo-fi buzzing. In the second half of the track we get more defined & less noise bound elements been added into mix such as: darts of more harmonic yet ominous machine bound noise throbs & buzzers, distant voices, whistles & hums. This track feels the most edgy, varied & almost playful of the three tracks here, as you really not sure whether the track will build-up more & more or thin down from one minute to the next.


All three tracks here are both rewarding & creative in there unfolds, and if you enjoy tense yet at times slightly playful electro acoustic noise with an improv edge this is well worth tracking down for a listen.






Roger Batty