Devilman - Self Titled [Small But Hard Recordings - 2012]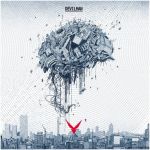 Japan's Devilman has released its debut album on UK's Small But Hard Recordings. This industrial/dub three piece takes their name from the iconic anime/manga character, Devilman. That seems like a much better choice than Panty Robot Alpha or Lieutenant Tentacle Rape. While I could spend all day making up wacky pervert cartoon characters, let's take a look at the album.

This album is comprised of nine tracks, coming in just shy of 39 minutes. The songs are all about the same length, with a few exceptions. So, right off the bat, we know we're not going to get caught in some 20 minute long electronic "epic" that sounds more like someone's sampler performing senzuri. We're instead treated to heavy bass, slick drum breaks, and interesting vocals. With the exceptions of "Ross" and "Last Black Emperor," this is pretty solid techno (Can I call dub "techno?" Is some neon maniac with an oversized pacifer going to attack me?). The highlights for me would be "Bakan Q" and "Noise Step." "Bakan Q" has a nice range of sounds from a super low bass line to an airy, fairly cinematic in tone synth sample on top. The groove is catchy and should get your head bobbing nicely. "Noise Step" takes a crunchier approach. This track sounds like something out of late 90's DHR (Digital Hardcore Recordings). The bass is heavy, the drums are crunchy, and the beat is plodding. I really dig it, and I hope it's not just the nostalgia talking. As for the techno exceptions, "Ross" plays out like the theme to some space Halloween show (pretty rad) and "Last Black Emperor" is Devilman's noise track. It's fun enough, but other than the bass throb, it's pretty uninspiring.


Devilman's debut is a pretty standard, crunchy techno album. I was entertained, sure, but there's nothing amazingly standout on it. This probably would've wowed me fifteen years ago, but now it's just a week of my time. If you're unfamiliar with acts like Bomb 20 or other stuff from DHR, check Devilman out.






Paul Casey