Werewolf Jerusalem / Willows - Spilt CDR [Wendigo Records - 2012]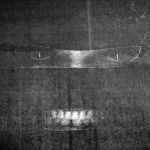 This split CDR brings together two twenty to thirty minute slices of dense horror themed walled noise. The split brings together Werewolf Jerusalem( one of Richard Ramirez most known & respected projects) & relatively recent New Rochelle, New York based HNW project Willows (aka Dom C also of brutal HNW project Faggot Front, & ANW/HNW project The Structure).

Opening up the release we have Werewolf Jerusalem's "Visiting Hours" which comes in 22.21. I'm guessing that the track takes it's title from 1982 US slasher of the same name, which featured crazed women hating killer( played by prolific b movie star Michael Ironside) stalking a journalist(and other victims) in a hospital. The 'wall' on offer here goes through three defined shifts along it's length, and it starts with a ominous & rather creepy swilling mist like ANW like churn that mixes to together water like churn & nocturnal distant forest like drone. By just over the two minute mark we're into our next 'wall'- this 'wall' is lot more urgent & tense mix of tightly woven jittering 'n' crisp static. Ramirez mixes the main tone into a constant 'n' locked 'wall', with a more shifting pattern based jittering 'n' grating static noise layer. As the track progresses the second layer of noise becomes more uniformed in its pattern for a time, through from time to time there are still effective deviations & textural shifts to keep you on your toes. At just over the sixteen minute the track shifts to a more open & seemingly endless descending billowing roast- this thick noise texture is surrounded by a rapid yet locked jittering crisp static sub-tones, and churning sub-industrial like juddering….all of which create this feeling of pressing weight & panic, as if someone's been suffocated with a stained hospital pillow. As this 'wall' progresses the sub-tones seem to speed up creating this great feeling of even more panic & fear before the 'wall' suddenly pans out and stops.

Next of course we have the Willows track, and this is entitled "Our Insignificance Perhaps May Save Us", and this comes in at the 28.10 mark. The track opens with a rolling, billowing & thick low end 'wall', with-in a minute or so the billowing roll has been joined by a buried locked/rapid clunking 'n' dragging tone, and also the 'wall' seems to have also taken on this oscillating sucking motion- the whole thing suggests some hellish & violent sucking porthole leading to the beyond. By the 7th minute the 'wall' has become more intense with a churning thick industrial like feel, through it still retains the sucking tunnel type vibe, and this part rather brings to mind the space- time machine /portal in the sci-fi horror moive Event Horizon. By around the fifteen minute the 'wall' seems to have subtle shifted into a rapid battering storm like feel with the locked clunking & dragging elements just been heard. By the 20th minute there is a more defined locked yet violent swaying feel to the 'wall', and the clunking element is seemingly gathered together..Like a pair of knocking together tools on the bottom of a cement mixer. By the twenty third minute the tracks speed seems to be getting more rapid intense & battering in its feel, and this bouncing yet blunt bass texture can be just made out from time to time with in the thick maelstrom of sound. In it's last few minutes the track returns to a more simplistic billowing roll which seems to be slowing down until it just judders it self out.

All told this split offers up two dense yet often subtle shifting slices of walled noise- with both pieces highlight very fined homed creative & atmospheric noise making skills from both Mr Ramirez & Mr C.






Roger Batty