Shaved Women - Self Titled [Ektro Records - 2012]St. Louis, Missouri, is a city that peaked 75 years ago and has been slowly dying ever since. Part of this is because the city is independent from the county and for the most part can't get the funding it needs to rebuild and become a place where young families would actually choose to live. There is very little public transportation and therefore it requires cars to get around, and very little of the culture and nightlife don't depend on this. In the summers, it is one of the most humid and stifling places in the United States, while in the winter it is subject to typical Midwestern weather, which means sub-zero wind chills and, for a few weeks at least, lots of snow. Ultimately, St. Louis is not a place that fosters creativity, and in fact on many days of the year it just feels like there is nowhere to go and no way to get there. It also suffers from a constant identity crisis, stuck between North and South, and its colleges tend to be bright blue areas in a sea of stagnant red. With Chuck Berry as an icon, a history of blues, a culture of country, and a younger generation steeped in hip hop, St. Louis is not known for modern rock; no significant bands, whether mainstream big sellers or influential indies, have ever come from there.

It certainly has never had a bustling hardcore punk scene. The loudest bands came from L.A.; the noisiest ones from Chicago; the most political from D.C. But it certainly makes sense why St. Louis might make somebody angry. Shaved Women (perhaps named after the Crass song) are certainly hardcore and they're certainly angry. And while they don't have much to say about St. Louis in particular, they do seem to be frustrated by where they are, so much so that they repeatedly lament they "can't get out" of their "Every Day Life" and that "it starts again" as that misery runs in "Circles." Throw in additional titles like "Same in the End" and "Always There," and it's obvious what Shaved Women are feeling.

And hardcore punk is primarily about feeling; it doesn't always have to have something to say. Shaved Women's debut—a reprise of earlier EP tracks rounded out with a shambolic live set—is front-loaded with its best tracks, but the whole playlist snarls with energy as the band crunches through a variety of three-chord rave-ups that offer thunder and muscle accompanied by gargled-steel-wool vocals, all made much more powerful by economic middle-fi production. Most impressive is the band's ability to switch gears from juggernaut to swagger without warning, such as in the stuttering refrain of "Circles," the second half of "Every Day Life," and the blustery freakout at the center of "The Start."

The live set is of primary interest to hear the same material played in its rawest form, complete with heckling. ("Fuck, yeah!" boasts an audience member after one number. "You're all so boring!" retorts the band.) The bash-and-bash ethos of the band means that a couple of the numbers lack dynamics and clarity, especially the rendition of "Every Day Life" and the sultry sludge of the otherwise unrecorded "Static." But it's still fantastic to hear tracks like this in what is obviously their natural context, a room full of sweaty young people looking to thrash around to something in a moment of fleeting joy nestled amongst the angst. And in between songs, the band itself hints at greater musical joys than what hardcore typically allows: snippets of Devo's "Jocko Homo" and that legendary Chic bassline from "Rapper's Delight" are performed as jokey asides.

Hey, Shaved Women, here's an idea... Instead of "making your mark today" by "making them all pay" and other unpleasant solutions to your anger, you should just move to Chicago. It's a quick five hours up I-55 from St. Louis and there you can sign to Touch and Go, the label that was home to Big Black and the Jesus Lizard. Your future will seem much brighter then, and there's lots to do in Chicago.






Richard T Williams




Shaved Women - Self Titled
St. Louis, Missouri, is a city that peaked 75 years ago and has been slowly dying ever since. Part of this is because the city is independent from the county...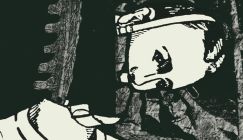 Hastings of Malawi - Deliriously ...
Formed in the early 1980s, after the member's sonic dabbling's on the early Nurse With Wound records, Hastings Of Malawi took a decidedly busy and deta...