Pikacyu*Ma​koto - OM Sweet Home : We Are Shining Stars From Darkside [Riot Season - 2011]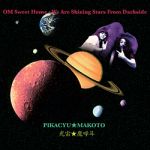 A trip to the Riot Season website, tells me that Pikacyu*Makoto is a duo comprised of Acid Mother Temple's Kawabata Makoto and Afrirampo's Pikacyu; and that this is their first album together, despite their respective groups collaborating in the past. Whilst this may well be a dream come true for some people, I should confess that I've never been overly enamoured of these groups; and despite supporting both of them live on different occasions, I've never heard a single release by either. This all sets up a nice narrative for me to be pleasantly surprised…but, alas, no.

The album can be crudely divided into "long" tracks and "short" tracks: the shorter tracks often consist of small ideas (or half-ideas) quickly sketched out, whilst the longer tracks stretch out into repetitive, psychedelic areas. So you have throwaway short jams like "Pop! Spece! Jump!", which has drums chasing sparse slide guitar; immediately followed by twenty-five seconds of, equally slight, punky clatter in "Oscar No Hope". The longer tracks are often built around repetitive, looping guitar figures from Makoto; which Pikacyu fleshes out with rocking drums and her yelping vocals. These are often processed, pitch-shifted to be precise, with varying results. Sometimes, as in the first track, "OM Marijana FU?", this processing creates a suitably warped choir of strained sound; but at other points, it often sounds just plain strained and wacky. Makoto's guitar follows quite twiddling, folky lines, for the most part; with layering and processing used to better effect than with the vocals. Although, saying this, possibly the one saving grace of the album is "OM Marijana FU Part 2"; which sees Makoto putting down his guitar to pick up a hurdy-gurdy. Here, Pikacyu*Makoto construct a droning piece, with the hurdy-gurdy flailing over Pikacyu's processed vocal chants and propulsive drums. It has a darker sound that contrasts with the rest of the album.

"OM Sweet Home : We Are Shining Stars From Darkside" did very little for me indeed - its almost as if they took all the worst aspects of the Boredoms and combined them into one band. The overall effect sounds like the most sanitised Bardo Pond, with silly voices over the top. I'm exaggerating ludicrously, and unfairly, but you get the idea. There are points, such as the lyrical "AWA No UTA", where an otherworldliness is nearly achieved; but most of the time wackiness appears to be the order of the day.






Martin P