Egyptology - The Skies [Clapping Music - 2012]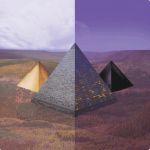 Egyptology is the collaboration of French electronic musicians Olivier Lamm (O.Lamm) and Stephane Laporte (Domotic, Centenaire). Their debut release, The Skies, is put out in grand fashion by Clapping Music (CD, 2xLP). Olivier and Stephane spent two years composing and recording The Skies. Luckily for us, it was time well spent. Retro-synth albums are tricky; you want to sound like Kraftwerk without ripping them off, and you don't want to sound cheesy. Unfortunately, the latter happens more often than it should (bits of this album are no exception). Egyptology strengthens their case by using the equipment of the time frame they're shooting for (old analog synths and recording to tape). What we're left with is a very strong synth album that stands on its own.

The Skies consists of 12 tracks at 55+ minutes. The shorter song approach allows Egyptology to switch directions more often without compromising the integrity of the song (the exception being the 10 minute Egyptology A-B). Long synth pieces are very easy to drift out to, and the switching of sounds and rhythms keeps the listener from zoning out and missing the action. While all of the tracks work well on their own, the album flows very nicely as a whole. The five part Orbis is separated for some reason (the first three parts, then the final two), but the interim tracks seem to fit in just as well. The first three parts are particularly strong and well put together. What starts out atmospheric turns into a head nodding, synth filled smilefest and ends with a semi-sad, sparseness...and it feels great. Well, except for the synth voice on Part 3. That's supremely cheesy. Parts four and five come later, but bring Orbis to a really solid finish. The other songs on the album all have a really great energy that is relayed through pulsating arpeggios, rapid oscillations, and catchy drum beats. The exception, Egyptology A-B, takes a slow, steady approach. It seems more contemplative than the others.

This album is not without its flaws, however. The cheesy synth voice mentioned above is one example. Endless Night in the Eternal Spheres has a pretty cheesy harpsichord sound and Orbis Part 4 has a pretty groan worthy theremin-y bit at the end. The Skies sounds like it's ripped from Mike Tyson's Punch Out. Now, I really enjoy video game music, but not when it takes me out of the atmosphere established in the the preceding 51 minutes. These are minor gripes and I'm probably being too critical.

Egyptology - The Skies is a solid album that would make an excellent film soundtrack (though, not for Rage of Honor, which I had on during one of my listens). It is a tad more Software than Kraftwerk, but mimics neither. The music sounds like it was recorded 30 years ago and is only a tiny bit cheesy. Egyptology has succeeded in creating a really worthy piece of retro-synthesizer music.






Paul Casey