Werewolf Jerusalem/​The Black Scor - Split [Hatemail Records - 2011]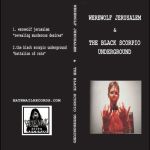 The packaging for this split is rather curious, mixing obvious effort with distinct ugliness - to my eyes anyway. The oversized cassette case has a simple insert, adorned with a bloody image; inside is a translucent red tape and a small bag with another insert and what appears to be an animal tooth. All good so far, but the top of the bag is taped to the case; and to my nit-picking eyes it looks a little ugly. I realise I'm being picky, but here we are.

The tape itself contains great ugliness or beauty, depending on your take of things. The first side belongs to Richard Ramirez's Werewolf Jerusalem, and it shows just why he's so highly regarded in Harsh Noise Wall circles (and beyond). "Revealing Murderous Desires" is a near-fifteen minute track of fast moving walls; if not exactly aggressive, then certainly abrasive. It almost feels as if Ramirez is showing off just how many different textures he can conjure up, there's such a wide range in the piece. After a brief, strong, gravelly beginning, the track jumps into trebly life; with blustering swirls over a firm bass drone. The next colour Ramirez deploys, collapses the wall in on itself - an itchy bass saturation, with scathing crackle. This quickly down breaks into a more clinical sounding, airy drone wall; which lasts for a few seconds before succumbing to further bass abuse. The track plays out to crunchy mid-frequencies, then further trebly gusts, then further bass pummel and crunch; before the sound breaks up in the final moments - and all in a track which is to be considered short in HNW terms. This is really a masterful display of textures, which develop flawlessly and with good pace.

Flipping the tape over, we have "Battalion Of Rats" by The Black Scorpio Underground"; a name new to me. It begins with mechanical stomping, accompanied by a primitive electronic whine. This whining swells and twists, until a few minutes later its joined by a clanging, noisy guitar; this adds detail rather than texture, and is somewhat distracting to my ears. Once the rhythmic stomping drops out, the guitar becomes more successful; building entangled layers of noise. The track then cuts to a thin, trebly noise; underpinned by spare percussive clangs; which in turn changes quite quickly to the sound of wind, processed to sound incredibly brittle. This is probably the most pleasing section of the track for me, with frail blasts of detailed textures. The piece ends with a passage of breathing and vocal sounds, processed and chopped into a stuttering, stammering nervousness. A brief burst of rhythmic pounding then gives way to an equally brief processed drone, before the faltering vocal sounds end the track.

Both sides of this release have artists building tracks out of little blocks of sound; but interestingly, the majority of the sounds utilised are often used in much longer, more droney forms. We're used to hearing unchanging Harsh Noise Walls over much greater durations than those deployed by Werewolf Jerusalem here; but also many of The Black Scorpio Underground's sounds are more often used in longer forms: repetitive, relentless machine rhythms, layered guitar noise, the near-HNW textures of the processed wind section. So we have these compressed snapshots, almost - certainly in the case of Werewolf Jerusalem. But where Richard Ramirez somewhat effortlessly negotiates these shifts and changes, The Black Scorpio Underground is less successful. The initial guitar parts sound rather incongruous, and don't work for me; and in general I feel that most sections could be stretched and pulled a bit further - though perhaps I'm just unfairly comparing them to Werewolf Jerusalem, whose piece sounds more fully formed. So you have an interesting piece from The Black Scorpio Underground, which promises more in future; and a superb track from Werewolf Jerusalem, which should justify your interest in this release alone.






Martin P