Eyvind Kang - Virginal Co-ordinates [I Dischi Di Angelica - 2003]"Composers" don't create music, they only redistribute vibrations that would be occurring anyway, regardless of anyone's intentions says Eyvind Kang in his essay Music Suffers. This is a relatively common theory that I heard in different forms from several composers, but to me it seems some people are much better in redistributing the vibrations than others. Kang is surely one who is pretty good at it and on this disc he's even better than usual. I was under the impression that this new release would be drone-based but although there are some mild drones on the album I would say this term falls a bit short in describing it. The 10 tracks are very melodic and I think you can situate it somewhere between the very melodic The Story Of Iceland and the more droney Live Low To The Earth…. The music is written and recorded live at the Angelica Festival in Bologna with a band consisting of Michael White (violino), Mike Patton (voice & electronics), Tim Young (guitar), Tucker Martine (live sound processing), Evan Schiller (sound movements), Eyvind himself on violin and the 16 instrumentalists of the Playground ensemble.Although the CD has 10 tracks with several melodic themes the music evolves slowly and seems to be be one long track consisting of different movements. The atmosphere is soothing, melodic and varies from earthly to celestial. Dramatic and almost pastoral the albums opener Go In A Good Way To A Better Place starts but soon the clouds break into a more hopeful sound. We calmly float into the gentle second track called I Am The Dead. Patton starts singing and the song slowly builds and suddenly drops to the basic drone to enter the 20 minute track Doorway To The Sun. A somewhat African cadenza takes 10 minutes for a mantra-like vocal to set in. Minimal medieval chords on brass and strings are the building (hidden) stones of Occultum Lapidem. The atmosphere remains medieval in the following track Harbour Of The NADE. In Taksim an acoustic guitar takes over and elaborates further on the 2 note-theme of the previous track but in a more Spanish fashion. The woodwinds and strings in Sidi Bou Said continue in the same harmonic environment but ventures into Arabia. The titletrack of the album has a cinematic tinge, with a Morricone-like cadenza, with lots of atmospheric sweeps that take over the track in the following 10 minutes. Innocent Eye, Crystal See has a theme that's easily recognized as a Kang composition. Beautifully and subtle it changes along the way without being disturbed. We end our celestial trip in India with Marriage Of Days, the most percussive track.Eyvind Kang has made a beautiful and exciting CD with Virginal Co-ordinates. Like a slo-motion version of Theater Of Mineral NADEs all the exotic elements are alchemically molded into musical gold. This will surely end up in my 2003 yearlist!The album has been re-released in May 2004 by Ipecac.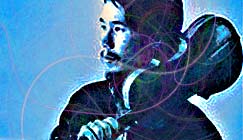 Eyvind Kang - Virginal Co-ordinates
"Composers" don't create music, they only redistribute vibrations that would be occurring anyway, regardless of anyone's intentions says Eyvind Kang in his e...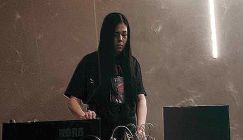 IO - Of Sound, Of Art, Of Expression
IO is a Brazilian visual artist, scenographer, fashion designer, performer and electronic music producer from Porto Alegre. Sonically her works move between ...