Craig Vear - ESK [3 Leaves - 2012]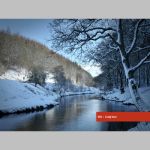 "ESK" is a sound poem/sonic tribute to the twenty eight miles of the river Esk, which runs between the North Yorkshire National park & the North Sea. The forty minute piece utilizes field recordings taken over winter, spring & summer in six sites of scientific interest & natural wonder along the river Esk

The rivers sonic journey is taken back to front from the outer harbour wall at the north Yorkshire seaside & port of Whitby, and ends at a place called Esklets which is at the top of valley called Westerdale in North Yorkshire National Park. Uk based sound artist/composer Craig Vear uses both hydrophones & air mics to record the field recordings from the six sites along the Esk. And these recordings of course take in lots of rushing, gurgling, dripping, tricking & flowing water sounds, but also you get sounds of wildlife, people, vehicle's from along the river, and of course the various sounds of the port of Whitby. Vear melds & builds the various field recordings into a morphing & shifting piece of sound art, which flows along in a rewarding & eventful manner, and one really does gets the feeling of travel through the sonic sites & seasons of this North Yorkshire river. The piece moves from expectedly soothing, to quite noise lined & active in its feel, and through-out it mangers to keep your attention.

The CDR release comes in a over side postcard like colour folder which features on the front a beautiful picture of the Esk running through a snow covered woodland/ valley. On the back cover & inside there are more pictures from along the river, and a small write-up a up about the pieces creation & meaning.

All told this is a nicely put together long form piece of sound art that utilizes rewarding & often surprising sounds from along the River Esk. This is my first taster of Mr Vear's work, and I must say this release has really made me want to check out more of his stuff, as "ESK" is such a captivating & cleverly put together piece of work.






Roger Batty