Seven Lies About Girls/Dere​k Roge - Split [Teen Action Records - 2012]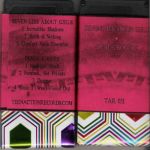 This is one of those packages which I commend in principle, but curse in practical terms. Its a tape and a strip of microfiche (?), partially wrapped in some metallic paper and held together by a paper band: a record collector's nightmare (which is reason enough to do it…). So its flimsy, but it has a distinct "bedroom" quality - something the packaging shares with the sounds within. Both outfits sound lo-fi and lo-tech, but this certainly isn't a criticism.

Seven Lies About Girls start their side of the split with burping, stuttering, primitive electronics; to which is added a background of shimmering, but menacing, drones. This sets the tone for the bulk of the remaining tape; with a small number of elements being constantly twirled and tweaked by Seven Lies About Girls. The main tool for this manipulation is a delay processor of some kind; sometimes used subtly, sometimes used to churn up the signal altogether. Indeed, all things considered, it sounds like quite a noisy performance; but this has then been tamed somewhat by the "room" recording, into interesting abstract electronics. So this isn't a work with great dynamics, or attention to texture and detail; though there are sparser sections later on - coupling rhythmic scraping with wailing feedback, for example. Frankly, it reminds me very much - in spirit, at least - of some of my own earliest bedroom "noise" recordings - that isn't meant to be remotely patronising or egotistic, there just seems to be clear similarities in terms of sound, open experimentation and resourcefulness. I mention the resourcefulness, because most of us started off with very little gear; and so it is that the two elements of Seven Lies About Girls that leap out are: some percussion on a pot or tin, and the buried vocal outbursts that arrive near the last section. This end piece changes things slightly, being a recording of people chatting; this is overlaid with acid synth squiggles, then left to play unadorned. Its a suitably cryptic, yet simple, end to a similarly cryptic yet simple side.


Turning over to the Derek Rogers side, we find sounds which take off where the first side ended. Proceedings start with a short passage of "trashy" hiss, or signal noise drone; but thereafter the overall sound is a darker, more confused relation of Seven Lies About Girl's acid squiggles… The first piece, "Madrigal Wash", has a aphex twin-esque quality - a reverberating, droning "ambient" motif, with acidic spurts and noises spitting out from the darkness. A truly dirty riff is added over the top of this: the sound and melody warping, bucking and decaying. The following track has similar sounds and concerns, foregrounding distorted noises over a swelling ambient backdrop; I use "ambient" in the sense of Richard James' melodic pieces, with slow repetitious motifs creating a delicate grandeur. This is reflected in the last track from Derek Rogers, which cycles a clipping, noisy, ascending riff around and around. It's played with a bubbling, chirping, acid synth line; which gets attacked by raucous distortion as it proceeds towards heaven. The standout piece, for my ears, is "Damper"; which avoids obvious electronica baggage and instead sets tense feedback drones against the shimmer of bells or tambourines. As the piece progresses, this feedback takes on a vocal, melodic quality; which really does sound quite beautiful - the highlight of the side.

I can't help but see a similar feel to both artists on this split, a similarly lo-tech experimentation. But whilst the warped, primitive electronica of Derek Rogers is arguably more consistent, even listenable, than Seven Lies About Girls; its the latter's more open experimentation that is more exciting and refreshing.






Martin P