Anarchist Republic Of Bzzz - Self Titled [Important Records - 2012]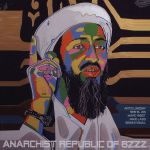 Here's a garish digipak cd, decorated with colour saturated images of several people - including iconic leaders Osama Bin Laden and Muammar Gaddafi. It contains ten tracks, and five remixes. The front cover announces loud and clear that the band is a "supergroup", listing: Arto Lindsay, Seb El Zin, Marc Ribot, Mike Ladd and Sensational. I'm not au fait with all of those names, but there's enough there to excite me; however, a "supergroup" is always a precarious venture: just as likely to fail spectacularly as succeed. Sometimes, all elements combine to create something greater; sometimes they negate each other or just get in each other's way. Its unclear what the precise problem was with Anarchist Republic Of Bzzz, but it certainly makes painful listening.

In a crude nutshell, most of the tracks are either freestyles from Ladd or Sensational, with the rest adding layers underneath in support; or they're overtly rhythmic tracks with freestyles overlaid. To cut to the quick, the key words here are: leaden, boring, clumpy and dead. So much colour and changing detail, but never anything of any tangible substance. Hip-hop is clearly aimed at and referenced, but Anarchist Republic Of Bzzz never get remotely close; the production isn't remotely sharp or punchy, and the use of guitar chunks as rhythmic building blocks largely fails to my ears. The vocals sometimes suffer from a lack of dominance in the mix, too. Saying all this, "Creole Rocket" is quite coherent and convincing; its certainly the most. Its frankly very hard to listen through to an entire track without my brain suggesting, "Fast Forward?". The first track proper, after the introduction, is fairly excruciating: a steady barrage of noisy elements which don't sit particularly well together; mixed and constructed with constant low-level experimentation, none of which amounts to anything. On top of this, a vocal performance apparently from the view of a US soldier serving in the Middle East: "…still thinkin' about them kids we blew away, HA HA!". Searing satire, no? I could imagine Jello Biafra giving that line the amount of theatricality it needs to work; but here it sounds frankly embarrassing. I have precious little to say about the US Army that's positive, but the lines - as delivered on "Body PLastic Sandles" - are laughable.

This, to my ears, is a patently awful album. I'm worried that I'm overlooking something really obvious, that will make it all click; or that I'm missing a joke. The whole affair sounds messy and ill-fitting. Its barely listenable. The remixed tracks benefit from infinitely clearer construction and direction, but that's not really a good recommendation for an album, is it?






Martin P