Dissecting Table / Vasilisk - Saddharma / Tibetan Liberation [Steinklang - 2011]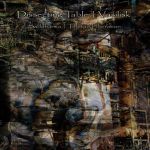 This split release from the Austrian experimental noise label Steinklang contrasts two stalwarts from the Japanese underground, both of which started releasing their wares in the late eighties. But while little has been heard from Tomo Kuwahara's Vasilisk for the past twenty years, Dissecting Table (AKA Ichiro Tsuji) seems to have released at least one album per month ever since, building an incomprehensively vast discography typical of the noise scene.

Dissecting Table's half of this release is devoted to just the one 30-minute track 'Saddharma', which seems to be made up of at least three 'movements'. The first part starts off in a deceptively interesting direction with an unstable, synthetic wail writhing around the room, getting more feral with every twist and turn as increasing levels of digital distortion burst at its edges to form an angry serpent ploughing a dirty, deep furrow. But only for a couple of minutes, though, as pretty soon it devolves into old school roiling static where layer upon layer of crushing bitrates mask all sense of the original sounds beneath. So it is with some relief that the middle third turns into a fairly regular doom metal riff, replete with loping drums and grunting vocals. After a brief pause, the last segment almost seems unrelated to what went before were it not for more of the same distortion, this time busily corroding a ticker-tape rhythm.

Vasilisk's loose and elusive brew of ritualistic vapours is a much more involving and engaging proposition. Spread across four tracks, their half hour, collectively titled 'Tibetan Liberation', sees long shards of guitar tones spear through soaring, nebulous atmospheres that elegantly surge and retract. The first and longest piece, 'Buddha's Warriors', features the pious yet ghostly voices of Jun Konagaya that waft under and around Yukio Nagoshi's thin psychedelic guitar and Kuwahara's metallic percussion in a loose production that sounds like it was recorded in a subway. But it is the middle two pieces, 'Grief' and 'Invocation', that are the most affecting, to a large extent thanks to evocative hand percussion that builds and fades across both pieces as bowed guitar and an Eastern flute fan foreboding flames to create a sense of secret ceremony.

It seems an unusual choice to couple these two artists together when the only common ground between them seems to be their years of experience and their location. Neither half really compliments the other and would perhaps work better as two separate releases: Dissecting Table's digitally distorted excess is too fitful and generic for an immersive experience, while all of Vasilisk's ensuing tracks end with a slow fade suggesting they might be culled from longer works that could do with more room to evolve and show their full, eerily alluring colours.






Russell Cuzner