Gareth Dickson - Quite A Way Away [12K - 2012]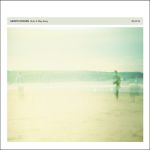 A very tastefully packaged cd on 12k, here; it's design suggesting that electronica hides within. Instead, we find eight tracks of pastoral, reverb-drenched songs, with an acoustic guitar and vocal. I may as well be upfront from the off, that I didn't encounter much joy with "Quite A Way Away"; whilst it can take a while for me to "click" with singer-songwriter projects, the fact remains that my ears couldn't find a lot to charm them here. Thats not necessarily any indication of "quality" whatsoever, its just not an album that grabbed or resonated with me.

As I said above, the vocals and guitars are drenched in reverb - the latter particularly so. This has two far-reaching effects: firstly, it makes all eight songs sound "the same" - this isn't the end of the world, but the reverb also has the effect of limiting the range of tones and timbres of the tracks, and flattening a lot of detail. Secondly, the reverb destroys the bareness and intimacy that a lot of the tracks would have had without it; especially regarding the vocal, which is often breathy and near-whispered, like a folkier Stuart Murdoch (Belle & Sebastian). At the same time, though, I don't feel that the reverb particularly fills out the sound-field; it doesn't sound like a physical space, or add ambience - it merely sounds like a nylon guitar processed with reverb. Though where the picking and song structure is a little sparser - "This Is The Kiss", for example - things work much better. I've certainly tried to listen to it and "strip away" the processing.

One interesting by-product of all this, is that, in many respects, the guitar elements of "Quite A Way Away" almost take on electronica qualities. The picking patterns, fed through the reverbs, create a weird motorik electronic music at times; which is a curious result. Despite this, Gareth Dickson's album sounds much closer to a folkier, shinier and sterilised version of Flying Saucer Attack. There's very little that enthralled me here, in terms of song, sound or atmosphere.






Martin P