Vatican Shadows - Kneel Before Religious Icons [Type Records - 2012]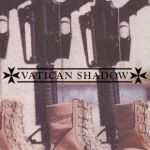 Dominick Fernow is probably better known for power electronics and extreme noise exercises under his Prurient guise, here, under the new pseudonym Vatican Shadows, Fernow reigns in the harsher side of his psyche and turns his attention to weaving bleak atmospherics and old school Industrial sensibilities with undertones of deep, abstract techno.

Originally released under his own Hospital Records imprint in tape form, now re-issued in vinyl on Type Records Vatican Shadows has managed to cause quite a stir…this album being a culmination of numerous cassette releases, which has captured this particular time and space perfectly. There has been a resurgence of interest in old school Industrial, post-punk and early EBM of late (no doubt helped along considerably by Trevor Jacksons recent compilation 'Metal Dance: Industrial / Post-Punk / EBM Classics & Rarities 80-88'), acts that were once lauded with ignorance and shunned by the 'mainstream', legends such as SPK, Throbbing Gristle and Front 242 to name but a few. Fernow takes this basic formulae lain down by these acts and strips everything right down to the core, minimal rhythms mixed with dark ambience and deep emotion, everything about this release oozes gothic decadence, without being confrontational or too obscure. It's little wonder then that the excellent Blackest Ever Black label have also picked up on Vatican Shadows, joining the ranks amongst the leading figures in this resurgence, such as Regis, Raime and Tropic of Cancer.


Looking at the album, the first thing that comes to your attention is the seemingly inconsequential track titles, presumably plucked from random news headlines (most of his previous cassette release's base themselves around war, politics and the media's interpretation of these factors to induce fear and, in turn, control over the populace at large), lending a sense of disassociation to the listener from the start. The tone that is presented is very bleak indeed, the first offender, 'Chopper Crash Marines' Names Released' takes this feeling and runs with it, repetitive, mantra like industrial beats provide the backbone as almost cinematic ambience is layered throughout, giving a feeling of loneliness, desperation and longing, the perfect bedfellows for gothic indulgence. The rest of the album follows this path, incorporating technoid sub bass along the way, infusing the tracks with a hypnotic helplessness, increasing velocity only slightly, like what is experienced in 'Shooter in the Same Uniform as the Soldiers', bordering upon rhythmic noise as the distortion level is ramped up somewhat. 'Worshippers at the Same Mosque', clearly draws influence from the synth-pop act Cold Cave of which Fernow is also a collaborator, presenting an mutated vision of this particular sub-genre, infused with hard hitting bass kicks and distant whisperings of minimal synth. The standout track on the album has to be the excellent 'Church of all Images', a heavy, repeated bass tone drops in, almost pummeling in its relentlessness, swirling synth-lines add the emotive element and the result is endearing, taking you back to a time when this kind of material felt, new, refreshing and somewhat vital.


Vatican Shadows has delivered an enticing prospect with this album, reclaiming atmospheres of old and bringing everything bang up to date. If you are a fan of Blackest Ever Black style techno or old school industrial vibes then definitely grab a slice of this, you won't regret it!






Todd Robinson