King Crimson - The Power To Believe [Discipline/Sanctuary - 2003]King Crimson has been around, on and off, since 1969. They represent 'prog-rock', something which makes many serious (punk)-rockers shudder. Which is fine by me, they go shudder and listen to the White Stripes while I enjoy the second full length album by King Crimson 'level five'. With Robert Fripp as the one to decide if something is 'Crimworthy' the quality standard has always been high. Eagerness to use new techniques and musicians with a strong musical identity have kept The Crim relatively young and up-to-date during Fripp's 34 year career as King Crimson guitarist.King Crimson Level Five shows a less poppy (read: The Beatles) approach than the previous incarnation. Humoristic blues interpretations and references to Crimson standards like Fracture and Larks' Tongues In Aspic (all three parts) were the bulk of this outfit's previous album The ConstruKction Of Light. The line-up of Adrian Belew (vocals & guitar), Trey Gunn (Warr guitar), Pat Mastelotto (percussion) and of course Robert Fripp is also significantly more aggressive which made Fripp coin the term 'Nuovo Metal' to describe the current style as the music at times unleashes powerful thuds of an almost industrial power. Of course the term made people assume (and accuse) Fripp jumps the 'nu metal' bandwagon but if this is 'nu metal' King Crimson invented it since this isn't that far from mid seventies material by this band.The Power To Believe represents a mixture of emotional popsongs like Eyes Wide Open and just as emotional soundscapes like The Power To Believe, scattered in four part throughout the album. Rhythmic instrumental powertracks like Elektrik and Level Five that also contain the Steve Reich-ian guitar cadenzas we got to know by the '80's reincarnation of KC. A few powerful rocksongs like Facts Of Life and Happy With What You Have To Be Happy With, heavier than anything they've done before. Dangerous Curves slowly builds, not unlike The Talking Drum of 30 years ago, into a dangerous monstergroove. Amazing how Adrian Belew's voice maintains its emotional power through the effects that he uses on the titletrack, especially the majestic second part is sends shivers down my spine. This is the magic that these men (and I) are after, this transcends temporary fads and crazes, this is what music's all about.In conclusion: I'm happy with what I should be happy with! And not only because I should. The previous album being a bit more a random mix of old friends and new jokes this album is a more coherent journey with some really beautiful celestial moments like the titletrack and Eyes Wide Open shows King Crimson is a truely timeless band that keeps on reinventing themselves without losing their identity or trying to stay 'young' in some forced manner. All technical novelties, like guitar effects and electronic drums, never get in the way of the music. A little humour like the lyrics of Happy... prevents the album from becoming top-heavy or pretentious (although some people of course would accuse any band that doesn't stick to the 4/4 backbeat of being pretentious, oh well...).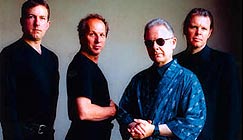 King Crimson - The Power To Believe
King Crimson has been around, on and off, since 1969. They represent 'prog-rock', something which makes many serious (punk)-rockers shudder. Which is fine by...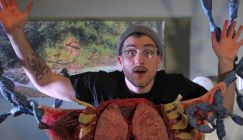 Lucky Cerruti - Of Not so Friendl...
New York-based Lucky Cerruti is one of the up-and-coming directors in the underground horror scene. Since 2019 the theatre actor turned director/ writer/prod...