Keuhkot - Laskeutumisalusastia [Ektro Records - 2011]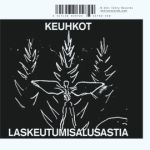 Oh my. I woke up at 3am for this? A mashup of every post-punky and NDW bit imaginable, with all the 'style' of another flatulently post-ironic LCD Soundsystem album. The Sugarcubes and Holger Hiller trapped together in some crappy industrial basement northwest of Helsinki, perhaps? If I seem unkind, my apologies.

Having heard a lot of music over the years this has made me jaded and humorless. Not. Der Plan and Pyrolator were fun; Keuhkot is the harangue of an aging and self-important art student. Faust and Foetus were intriguingly oblique at times, while The Residents created a dazzlingly unique vision. Keuhkot seems, to my ears, a wholly derivative exercise with only the vocals in Finnish being a point of departure. Now if I spoke Finnish I might discover some sort of socio-cultural commentary embedded in Keuhkot's lyrics that would make the whole enterprise interesting. Did I just hear the mummified remains of Snakefinger stirring in some unspeakable fashion? Or was it Hajime Tachibana getting smacked with a rusty rake? The more one listens to Keuhkot's album "Laskeutumisalusastia" the less interesting it seems, unless one is wholly unfamiliar with all the names I have been throwing around in this review. In that case, the involuted quirkiness and angular experimentalisms might have a decent chance of arousing interest. Devo assaulted by a drunken Blixa Bargeld? Dennis Wilson eating rotted corn-on-the-cob with FM Einheit's pet hamster? Art attack? Who cares?

All snark aside, "Laskeutumisalusastia" is an album that was created with obvious care. And it is obvious that Keuhkot has something of value to say. After all, this is his sixth album. A sort of quirkiness is on display that could only be developed through years of being trapped in one's own head, while society rages on outside the door. That being said, it all sounds so very familiar on a musical level that I just cannot really hang around long enough to engage with Keuhkot's possibly interesting personal vision.






Bill Too