Earth - Angels of Darkness, Demons of Light II [Southern Lord - 2012]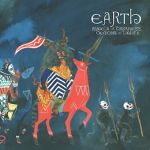 This second volume of Angels of Darkness, Demons of Light has been released almost a year to the day after the first volume, despite it being recorded at the same two-week session back in April 2010. The session saw band leader Dylan Carlson's chiming, resplendent guitar joined once again by his patient percussionist and co-writer Adrienne Davies, along with a new bass guitarist, Karl Blau, and Lori Goldston's sumptuous cello strings taking the place of Steve Moore's keys. However, whereas most of the first volume featured songs already developed over the course of a preceding tour, this second volume is largely formed of 'live in the studio' improvisations. It is not, however, a bonus disk to volume one the equivalent of DVD extras, but an entirely coherent and captivating album in its own right.

Throughout interviews in support of both volumes, Carlson consistently indicated his passion for the music of Pentangle and Fairport Convention. While, crucially, the arrival of Goldston's rich cello immediately places Earth's palette closer to these leading lights of the English folk music revival, the influence is subtle: the band seem to have incorporated the rural colours and textures of folk without masking their resoundingly American influences, from the minimalism of La Monte Young through Neil Young's balladry to Bill Frisell's measured jazz and country pickings. Indeed, it wasn't until the penultimate track of the first volume (Hell's Winter) that the folk aspect first showed itself. This is perhaps something to do with Earth's proprietary slow tempos that while revealing the rich detail in between notes, can obscure the bigger picture as its listeners become immersed in the tones as much as, if not more than, the slowly forming melodies.

However, whether it's thanks to being primed by the first volume or something to do with the free-er approach to composition of the second, part two reeks of rustic crafts performed in the open air. It opens with a short piece, Sigil of Brass, that although not featuring trumpets or trombones, feels like a fanfare to a new day with shimmering cymbals illuminating smooth guitar tones melded with long, contemplative arcs on cello. The great outdoors continues to be evoked on 'His Teeth Did Brightly Shine' where bass notes stand tall like trees dividing the sun rays from Carlson's chiming guitar as Davies' percussion imitates crickets and snakes. But it would be wrong to describe the pace as a lazy walk in the country, the playing being too focussed, too considered as to seem more devotional or prayer-like.

A brooding, melancholic waltz imposes a more Autumnal feel on 'Multiplicity of Doors', bringing Earth's orbit closer to that of Dirty Three or Six Organs of Admittance, as it winds and unwinds in a dance of poise and strength. 'The Corascene Dog' follows the slightly darkened mood with a mature, knowing gait, its buoyant rhythms carrying a sorrowful yet resolute melody steadily towards its natural conclusion.

The final piece, 'The Rakehell', is almost anomalous to the preceding pastoralism, finding itself on a somewhat sexy prog-funk strut, were it not once again for Earth's calm, serene pace that gives the listener plenty of room to travel from consciousness to unconsciousness and back again within the same track. Instead of the fresh country walks offered elsewhere the album ends with a weightless flight through a setting sun, concluding this meticulously-crafted yet freely-composed soothing balm.






Russell Cuzner