Various - Music To Fuck To.. [Pigdurt Productions - 2010]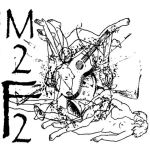 Well, here's a monstrosity. A three cd compilation, with fifty artists and nearly four hours of sounds. The discs cover a lot of ground, although primarily its different shades of noise, and feature many lesser known projects alongside more familiar names (Vomir, Churner, etc). In keeping with the title, the cds are named "Foreplay", "Orgasm" and "Afterglow"; and the "o's" in each word are beautifully portrayed by the spindle holes on the cds themselves. A nice touch.

"Foreplay" starts with some tracks of clipping doom and "abused electronics with beats", none of which are particularly awe inspiring; though Synapsis's contribution is impressively gloomy and bleak, and Sunao Inami manages to superbly combine a Wax Trax industrial feel with glitchy electronica. When the sixth track arrives, courtesy of Sleep Of Ages, its awakening blast of noise comes as a welcome change. Its a trashy torrent of simple noise, with a nice crunchy ending. Its followed by "Jennifer" by Churner - the first time I've heard something from this project, and an impressive introduction. Its a creeping wall of low-end noise, with grainy crackles dancing over the top and echoing elements buried underneath; theres a nice sense of pace and propulsion. A few tracks later, Shalocins present an interesting and unsettling arrangement of sounds; with female vocals, clatter, field recordings and lo-fi noises combining to make a very eerie few minutes. The last piece to resolutely grab my ears is from Half An Abortion, who start with a twisting, abused synth squeal, and then pursue this to the bitter end; and what is initially a tad boring, becomes an interesting wresting with one sound.

False Flag provide the first exciting track on the second cd, "Orgasm", with a careful exploration of abrasive textures that truly fills the speakers. After this, Loathings contribute a long track, which settles on a strangely hypnotic loop for a good part of it. By contrast, the Vomir offering here is easily the shortest piece I've heard from him; clocking in at a mere three minutes, its yet another great harsh noise wall of crust and crackle. I'm not always the greatest fan of looping, but Arvo Zylo's track is an immersive series of slurring, stuttering loops; ending in the destruction of an triumphant orchestral sample. In a compilation of this size and content, little differences can make things stand out more prominently; and so the speech introducing Josh Lay's track (from an aggrieved man), immediately raises the ear's expectations. Luckily, the piece doesn't disappoint, with nice shrieks and shudders fighting their way through an over-saturated, cloudy wall of noise. The last three tracks on "Orgasm" are some of the best on the compilation. The first two of these, both feature interesting rhythms and electronics; with Art Schnurple combining panned synth stumbles with what sounds like a car failing to start, and Eraritjaritjaka mixing porn samples and glitching electronics to brilliantly concise, frenetic effect - not a second of sound is wasted. The cd finishes with a fine piece from Griaule, which creates an unsettling mood with backwards voices, reverberating drones and the sound of something being repeatedly hit in the background. After what sounds like an engine kicking into life, these sometimes indistinct sounds are cut back to reveal a recording of a couple engaged in the intimate activity that forms the theme for this compilation. Its a curious, voyeuristic moment - not least because the quality of the recording obscures some of the content. For all of the questions raised by it - who are they? Where did the recording come from? - I confess my main interest is, what music are they playing to accompany their love-making?

The third and final cd, "Afterglow", begins with a nice change of pace from Jesus Is Angry - bare, but confident, piano against a tangle of radio voices and noise. Its a very simple idea, which stands out from the mass of tracks on the compilation. In a similar vein, the next notable track is a billowing drone from Hjorten; a whistling, barren soundscape with details flitting in and out. Following this, the ever dependable Petals offers us a torrent of crunchy harsh noise - its incredibly monochrome, and beautiful for that reason. In direct contrast to Hjorten and Petals, The Raytownian(s) jump in with panning noise jolts and skree; the track rarely settles or rests for its four minutes: constant movement. Black Lung's "Exploring The Feminine Void" is built on a reverberating, crawling drone; its low frequency swells underpinning the higher frequency chirrups and pops that pirouette across it. Its a consummate piece of sound, wonderfully clean and crisp compared to most of the compilation. Pilegesh, who follow Black Lung, are rusted filth from beginning to end; with jarring junk abuse smashing through fizzing noise and an eerie drone. Clitoris Less Cunt has a dominant female vocal element, and indeed its the only track across the cds that features this; the voice moves from singing tones to more strained shrieks and grunts, to the backing of a somewhat basic rhythm and weak guitar. Possibly the strangest little track on "Music To Fuck To" is from Waratah, a slurred recording of an accordion which wows and flutters; and not a lot else. There are other elements creeping about in the sound-field, but they're buried and barely noticeable; not that this is a bad thing, since it creates a tension and curiosity for the listener. It actually sounds like it should have been the very final track, it sounds like an "ending". (The actual ending is an equally odd song from Snog, though its unclear if its actually a song performed by Snog, or a remix of someone else's work.) The penultimate piece is a raging harsh noise wall from Ritual Stance, which courses through the speakers at a determined, relentless pace. Like the Vomir track, its refreshing to hear exemplary HNW in such a compact burst.

Well, its a big compilation; and thats essentially its weakness and its strength. A good compilation is a wonderful thing; they can encapsulate genres or stances, territories and ideas, they can mark out new areas or distill old ones. "Music To Fuck To" doesn't do any of these things, but then it doesn't claim to either. What it does do is give a cheap introduction to a fairly broad view of current noise projects, sounds and techniques. There is a lot of low-level electronics/pedal mangling, but theres also enough quality on offer to make it a worthy investment; and though my ears would probably condense the three cds down to one cd of excellence, your ears might do the same with different choices. There's certainly enough material here.






Martin P