Phantom Heron Seas - The Unkindness of Ravens [Dead Sea Liner - 2009]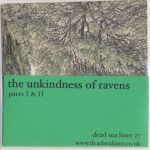 Phantom Heron Seas is the nom de plume of Allan Upton, a sound artist based in Dorset who also goes under the equally ornithologically oblique name Textured Bird Transmissions. The Unkindness of Ravens comprises one piece split into two parts that, despite Upton's flock of feathery clues, avoids any sonic suggestion of bird-life but instead takes the listener on a flight over more land-based natural sound textures.

Part 1 opens with the light, extended tones of what sounds like an organ (as opposed to that of a "phase shifting mandolin" cited by the frustratingly brief info provided by the label) that curls elegantly suggesting a breeze on a bright day. Gradually, a gentle scraping sound arrives like a metal nib dragging on a stone road. It travels left to right and back again with a vivid effect of carefully drawing circles in your mind. Equalling the unhurried pace of the floating organ drone, the scraped shapes split, creating two journeys mirrored by the stereo field, its random, rough rhythms in marked contrast to the smooth undulations of the omnipresent organ tone. The combination is rather meditative as the brain follows its hypnotic trajectories until they multiply further and further as Part 1 nears its 13 minute duration. It creates an odd image of a stone field full of automatons drawing shapes with protractors on the ground, but, ultimately, the image fades as the sounds filter out, becoming more and more brittle until lost on the breeze.

Part 2 could be mistaken for being Part 1 played at twice the speed. It is half the length of its predecessor and displays a similar pastoral drone that is now pitched higher and pulses faster while the scraped tinkering of the circles now seem finer sounding, more like a winding in than a carving out. The only new addition seems to be the trickling of water, coursing throughout most of the track to give the piece a kind of rustic ritualistic feel, like some kind of arty outdoor hybrid – one part sound installation, one part DIY irrigation system.

Through a close attentiveness to a small selection of rich sounds, Upton has created a modest release both beautiful and bizarre, rewarding deep listeners with detailed textures and animated atmospheres to evoke mysterious yet natural and believable environments.






Russell Cuzner