Daniel Menche - Terre Paroxysm [Utech Records - 2010]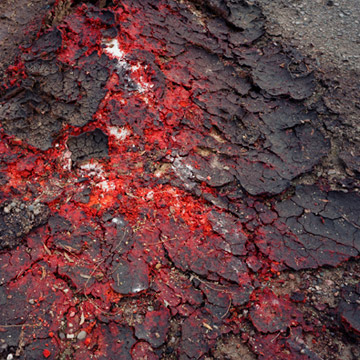 Like its title implies, this latest set of recordings from Portland-based electroacoustician Daniel Menche, is about elemental violence. Apparently formed from field recordings of storms combined with "destroyed electronics", Menche's reliably powerful dramas here portend and portray the unstoppable destructive forces of nature.

Each of the four tracks presented here represents a long, morphological journey (averaging 15 minutes a piece) through which Menche's layered blend explores constantly changing emergent textures, almost always exposed gradually to stealthily creep up on the immersed listener. Initially a thick bass tone extends over a dry, forest floor, casting ominous movements that can't help but recall the Evil Dead's groaning invisible demon as it attempts to enter the old, wind-swept cabin. Soon the lighter, airy movements have transformed into the random rhythms of a whipping wind that threatens to drown out the rich bass undertow weaving a stronger sense of malevolence into the proceedings. And the storm just keeps gaining more and more dark energy, crushing and dominating its path with a furious, inhuman battery before stopping suddenly in its tracks at the peak of its power. The second piece takes a similar trajectory, but the initial rustling of dry leaves evolves almost imperceptibly into much wetter fare, spotting and spraying as cycles of whistling air form a tunnel through which the thick, complex movements of the rain storm can be observed. Muffled hits accompany throughout like some expedition also battling the elements in the distance.

Next we're kindly given a dry spell in which to recover as the third track's silvery chimes extend like torchlight over the low frequencies of a turning engine. Further beams of light of varying lengths collide from which pulsations emerge illuminating smooth, snake-like movements through the bracken. Like the other pieces, the confusion of sound layers just keeps building in power, but here by the mid-point the result is almost musical as the chiming tones streak across in a macabre crusade that is ultimately overcome by a colossal, threatening rumble. The final piece is the fastest, most blusterous experience of Terre Paroxysm that sends the listener straight into the eye of the storm. Within the constant barrage of whipping and slicing gusts, curls of silvery feedback gently emerge seemingly unaffected by the carnage all around. These two contrasting forces, one of unabated ferocity, the other an almost Zen-like meditation, communicates a raw sense of what it is to be alive more vivid than any melody played on conventional instrumentation could dream of attaining.

Terre Paroxysm really is a prime example of the artistry involved in combining the sounds of nature with electronic textures to result in seriously compelling and wildly evocative experiences. While field recordings on their own can always transport the listener away from their safe environment, Menche's compositions while respecting the power of recognition also bring multi-layered mysteries to the mix and in doing so, he deftly designs a dark sound world to a deeply dramatic effect.






Russell Cuzner