Abhor - Ab Luna Lucenti, Ab Noctua Protecti [Moribund Cult - 2011]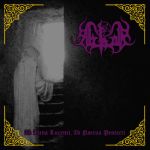 Italian Black Metal outfit Abhor return with their fifth studio album to date via a new deal with American label Moribund Cult. Abhor's particular strain of Black Metal is highly strung out on the theatrical side of the fence, utilising heavy amounts of keyboard throughout, with hints of gothic sensibility. Interesting you may think…and some elements are, but overall the album fails to stand up very well against the current new wave of avant-garde BM contemporaries. Trying to fit in somewhere between 'La Masquerade Infernale' period Arcturus with their OTT atmospherics and operatic scope and the disorientating playing style of French BM act Blut Aus Nord, Abhor give it their all, but just don't quite come up to par.

Nevertheless there are some sections of the album to be enjoyed, whilst there is a lot of mediocre material, the imagination and heavy atmospheres that are weaved together hold the attention somewhat. 'Golden Path' introduces you to the concept, acoustic guitar accompanied by lashings of piano keys ease you into the proceedings, the guttural vocals lending an exuberant edge to the track before breaking into well-trodden territory, flurries of drums and high buzzsaw guitars. The overall production on each instrumental element sounds very flat, lacking the vital bombast they are clearly trying to achieve, sounding a little too contrived and amateurish at certain points. 'Hearing Without Fear' and 'Echoes of Desperation and Hate' follow the same path, injecting some classic doom type moments with gothic undertones, similar to early Paradise Lost laced with Black Metal venom. This vibe is most apparent throughout 'Echoes…' the longest track on the album, evoking a presence all of its own…the track constantly shows hints of promise throughout, but never really capitalises on anything. The energy is lacking and the old school production on the drum/guitar combo, although offering a bit of a trip down memory lane, feels stagnant and in turn the opus feels like it drags its heels the entire time.


The whole album suffers from that feeling that something good is lurking just around the corner, but it all turns out to be quite lacklustre in the end, the start of good ideas, quickly running out of steam. 'Seven Magic', a little further down the line, reveals an almost comical overplay on the sample front, really ruining any kind of authenticity outside of it all being 'just a bit of a laugh'. It can work well in some scenarios, but this isn't one of them and the whole effort suffers as a consequence. Abhor really need to step up their game and build upon what are essentially sound ideas, consequently becoming something of a more coherent and forceful proposition. Until then though, unless you are already a die-hard fan, 'Ab Luna Lucenti, Ab Noctua Protecti' remains a very frustrating listen, revealing only the slightest glimmers of greatness before meandering off down Tedium Avenue.






Todd Robinson