Dead Body Collection & Griz+zlor - Big Red One [Griz+zlor Self-release - 2011]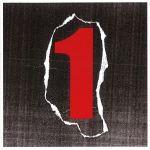 "Big Red One" sees two of the HNW scenes more hard hitting, dense and weighty projects getting together for an hour long collaboration track. In the right hand corner we have Philadelphia based Griz+zlor, and in the left corner we have Serbian based Dead Body Collection. Together the pair boil up quite a thick yet layer shifting slab of weighty HNW that doesn't really sound like either parties work.

The Cdr features a single hour & two minute track of impenetrable yet seemingly textural & layer shifting noise. The 'walls' built around an active, relatively short, and continuous churning judder 'n' folding static texture. Under this main and constant tone there's seemingly all manner of buried & shifting sound, we have: sloping and bending caustic drone belts, galloping industrial almost percussive dwells, grateing drill like pluses, and mostly bizarrely what seems like some form of buried, ultra melted & muffed musical elements. This 'musical' element is so deeply buried that it's extremely difficult to define what it is; but from time to time you can just make out what could be an epic blacked metal or possible post rock guitar tones, or maybe it's a pressing up beat modern rock rhythm section, or possible some sort of horn edged & emotional instrumental tv or moive theme. This whole element really neatly pulls you deeper into the track as you attempt to make out quite what it is.

So this is a very thick and unrelenting collaboration between these two heavy weighty HNW projects from either side of the globe. And really as all good collabs should be "Big Red One" sounds like neither parties other work.






Roger Batty