Satori - Live at the Cave/Salzburg [Steinklang Industries - 2010]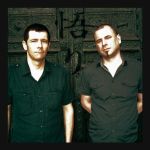 Steinklang Industries have unearthed this recording of Satori's performance in Salzburg on the 10.10.2008 and it successfully captures this duo's work in its rawest and most intense form. For those who are unaware, Satori is made up of Neil Chaney (the man behind the old-school industrial/noise project 'Pessary') and Justin Mitchell (head honcho of the highly respected Cold Spring record label) and together they deliver to the listener a terrifyingly rich sonic tapestry, sometimes ambient in texture or sometimes deeply crushing in its heaviosity, but certainly always dark as the pits of hell itself.

A gorgeously captured snapshot in time, Satori initiate the ritual by engaging the audience with waves of subtly eerie noise and obscure pulsating tones, crackling with the energy and slow rising intent which makes up the first track 'Hypnagogic State'. This theme is developed over the course of 'Nocturnal Fury', an ice cold slab of dark electronics and ambience offset by distant voices fading way into obscurity, trapped in the hellish nightmare that Satori are expertly crafting, instilling a sense of impending doom within the listener. Probably one of the most apt track titles from the set, 'Unseen Force' drafts in horrendously grim drones, after the spatial elements that make up the first two, it provides a definite shock to the system and totally justifies everything you have been led to believe up to this point in the performance. Drums break through the noise and sub tones, making you sit up and pay attention to the rumbling cacophony that has suddenly enveloped you as if from nowhere, drawing you in and not letting go.


'Entity' sounds like the leftover shards of energy from the previous track, combined with the sounds of industry and machinery, washing over the listener and providing an almost cathartic sense of inevitability. Scratching away on the surface are short, intense burst of noise, before the martial drums kick back in again and 'Paralysis' takes over, layering effective, but again very subtle textures to great effect before the drums fade away. 'Threshold Consciousness' injects you with a harsh whiteout, which quickly recedes only to leave you hanging in limbo, drifting upon the sound-waves, helpless to the all-encompassing atmosphere.


'Kanashibari' ends the ceremony, slowly breaking apart all the carefully constructed components of the previous tracks, before everything is brought to a stunning conclusion with rising drum beats accompanied by a swirling cascade of noise and splintered electronics…a brilliant slice of dark experimental music, captured in its purest form. Highly recommended whether you were witness to the spectacle or not, I can definitely see why Steinklang saw fit to commit this particular performance to a full release. Nothing short of stunning.






Todd Robinson