Zeitkratzer - Alvin Lucier [Zeitkratzer - 2010]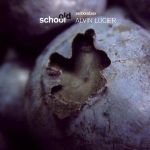 Zeitkratzer, the pan-European new music ensemble, are arguably best known for their interpretation of Lou Reed's Metal Machine Music where the swirling harmonics of Reed's feedback were unbelievably transposed for orchestral instrumentation. While they have continued to pick up gauntlets of other 'unplayable' musics such as their recent triumphant reworking of a selection of Whitehouse tracks, they have also taken care to remind us of their roots with their 'Old School' series of live recordings of selected works by 20th Century avant-garde composers. So far the series has included James Tenney and John Cage and it now turns to Alvin Lucier with which the ensemble had the opportunity of working in 2008. While it would seem that no one's work poses a challenge for Zeitkratzer, Lucier's scores can be so loose that they represent more a scientific experiment that opens the door onto a new form than a reproducible piece of work, as his intent is often just to discover the acoustic properties of objects and rooms.

The opening track, Fideliotrio, is, however, realised from a very strict score instructing a viola and cello to smoothly glide back and forth between three neighbouring notes whose middle note is also played at precise but irregular intervals on piano. The masterly controlled drone produced by the strings flows in and mostly out of harmony as they slowly and deliberately diverge and converge for 12 minutes to ultimately form an aural palindrome. But each time the piano intervenes with another of its stubborn and persistently singular notes the details in the combined sound becomes somewhat different – at various points the piano appears to have gone out of tune as the shallow tonal arcs of the strings infect its qualities causing variable pulsing throughout. And it's these cadencies that become the liveliest elements in the piece as they accelerate and decelerate due to the combined frequencies in the room. So to ensure these minutiae take centre stage the live recording is superbly balanced to best reveal the sounds that form phenomenologically between the notes, but despite this it does help to know what to listen for before experiencing the piece that can otherwise sound like a piano tuner being put off his perfect pitch by a couple of mischievous performers.

Music for Piano with Magnetic Strings gives Zeitkratzer a lot more freedom, or at least their creative director/pianist Reinhold Friedl who gets to play solo with "at least five e-bows" (small electromagnets more commonly used to move the strings of a guitar), placed on piano strings. This piece is, in effect, a scaled down version of an earlier installation of Lucier's called Music on a Long Thin Wire, which revealed the sonic properties of said wire as it was vibrated by an oscillator and a large horseshoe magnet. Here, the e-bows do similar to the piano's wires as Friedl demonstrates how various positions, durations and combinations provoke variable qualities, the score being unspecific about such things. Throughout its 13 minutes, almost half the length of the piece's softer debut recording by Lois Svard in 1997, the un-piano-like wiry drone bombinates unevenly from fast ribbing to slow throbbing creating a polyrhythmic perversity at times both hypnotic and alarming.

Zeitkratzer's Silver Streetcar For The Orchestra is also considerably shorter than the several recordings already out there, perhaps mercifully so as its intent is to focus on the dynamic range of a single, amplified triangle. Lucier's score dictates how the solo percussionist is to vary the position of both hands as they strike and dampen the metal instrument trying to fulfil all combinations of finger pressure, speed and loudness. Consequently, what initially sounds like an early period fire engine siren gains a myriad of associations – from wet dripping taps to a dusty old clock – thanks not only to Maurice de Martin's careful modulations but also through extended immersion in short sounds. Here, the ten minute ride is sufficiently long to wind past the brain's initial attempt at imposing significance on the fast tolling sounds to arrive at a state of unbiased audition – presumably the original intent behind the score.

Violynn is also designed for a solo performer to explore, like Fideliotrio, the effects of an acoustic stringed instrument on a constant tone - this time made by a pure wave oscillator instead of piano. Burkhard Schlothauer's violin starts with a range of extended notes that render the sinewave seemingly unstable if not invisible, bringing the grain of the bow into relief. Later, pizzicato playing creates a more engaging result as the short plucks cause the sine to bulge or spike; except it's doing nothing of the sort, of course, like an optical illusion that makes straight lines appear curved.

The final piece, Opera With Objects, is like a reduced, DIY version of 'A Silver Streetcar…', replacing the triangle with pretty much any everday object to be hit repeatedly with a pencil to explore its resonant properties. Usually performed by a solo percussionist, this time the full ensemble finally gets to play together. So instead of individual objects coming into the frame one at a time showcasing the timbral range in each, Zeitkratzer tap their undisclosed objects en mass but not in unison. While this is certainly more animated and just as successful as other solo versions at revealing the resonances of both object and room, it's a rough finale of pooled pitter patter that lacks the sensual sophistication that preceded it.

Apart from this last track, it is perhaps surprising that Zeitkratzer chose mainly to perform work by Lucier scored for soloists on conventional instruments, albeit extended in unconventional ways, than attempt to 'cover' Lucier's work involving non-instruments (like they did with Reed, Whitehouse etc.) such as 'Music for Solo Performer' where the composer amplified his own brainwaves and attempted to control the output. Instead they remain respectful and true to the composer's designs to unearth natural acoustic phenomena unadulterated by musical gesture.






Russell Cuzner