KiF: David Fiuczynski & Rufus Cappadocia - KiF [Fuzelicious Morsels - 2003]In Eastern Europe, the cultural doors have been closed so to speak. After the communist oppression, the people came to associate their culture with their former regimes and the 'free West' seemed to be better and a period of trying to copy the Western ways followed. Thanks to the newgained open society they were exposed to music that their former governments tried to keep from them. Cultural identity is a strong instinct though: currently people seem to rediscover their background and it resurfaces but in a different form. Western musicians discover the beautiful music of the East because most former communist countries are able to export their music on CD's. Previously only refugees from these areas who were living in the West were able to show their heritage. Emigrants tend to hold on stronger to their roots than 'normal' people so these people usually had a rather purist approach. Unlike the centuries before us music doesn't travel with the people who travel, which was slow and geographically bound. Now music can float over the world via all modern communicative possibilities at hand and of course faster movement of people in general. We witness more crosscultural initiatives than ever before, at least at a faster rate and unbound by geography. "Eastern-exotica-western-exstatica" is the description provided by guitarist David 'Fuze' Fiuczynski on his site. With cellist Rufus Cappadocia he formed KiF, which fulfils the expectations one might get from aforementioned description. With his jazz and rock background and his frequent use of fretless guitar is already a unique guitarist. He has various projects of his own including (sometimes Screaming) Headless Torsos, Black Cherry Acid Lab and he also contributed to Jewish punkjazzband Hasidic New Wave. Rufus Cappadocia has been playing in the New York downtown jazzscene but always with the cosmopolitan approach you expect from a city with so many nationalities. He played with Matt Darriau's Paradox Trio (Balkan/Terkisher jazz), Greek ethnomusicologist Ross Daly but also jazz/blueslegend James "Blood" Ulmer.The CD opens with Mektoub: Cappadocia's 5 string cello soars through Fuze's guitar ambience while the track slowly builds into a groove. The foundation of the pieces vary between jazzy 'waves' in Prayer For My Father and almost electronic sounding junglebeats like in Roxy Migraine (played by Tobias Ralph). Turkish-flavored Purple Vishnu explodes into heavy (jazz) rock. The groove of Phrygianade has an African feel to it. The leads are built of all kinds of elements but with a large dose of oriental and Balkan influences. Fuze studied the Turkish style of ornamentation and gave it his own, unusual twist. In Chinese GoGo he even plays Chinese scales with (semi)-Turkish ornamention. Matt Darriau adds gaida (bagpipe) en kaval (endblown flute) to the aptly titled Gaida and he plays an amazing mix of Afro-American jazz and Bulgarian traditions (over a jungle-beat) on these typically Bulgarian instruments.I think this is what 'globalisation' of music is all about: learn from eachothers background and create new exciting hybrids of music. From East and West are coming great CD's with all thinkable and unthinkable combinations. They might not all be successful as this one, some are more 'curious' to say the least, but that still can be very entertaining. This CD is past the 'curious' though. It's a great disc!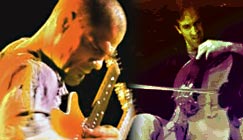 KiF: David Fiuczynski & Rufus Cap...
In Eastern Europe, the cultural doors have been closed so to speak. After the communist oppression, the people came to associate their culture with their for...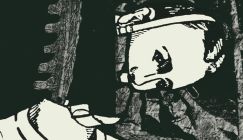 Hastings of Malawi - Deliriously ...
Formed in the early 1980s, after the member's sonic dabbling's on the early Nurse With Wound records, Hastings Of Malawi took a decidedly busy and deta...