Danubius - n/t [Mimicry Recordings - 2002]Head-honcho Trey Spruance (Mr. Bungle, Secret Chiefs 3) is a self-professed fan of folkmusic from the Balkans. The signing of the traditional Californian Balkan-orchestra Danubius for his own label surprised me a bit though. Unlike his own projects and his other signing Estradasphere, Danubius plays traditional renditions of folkmusic. In the booklet they write they want to preserve the 'living folk tradition' which is 'under siege' by globalisation. I think this is a huge contradictio in terminis: for one the fact that a Californian band plays music originally played by Hungarian, Romanian, Bulgarian and Transsylvanian gypsies and locals appears rather 'global' to me. Also the music played by these gypsies and locals is a mishmash of influences picked up from various sources, varying from the travels of the gypsies originally from Rajasthan but also the Ottomans had a large influence on all music in these areas during the occupation. The misconception that folkmusic should sound like this or that is quite common, but I think the folktradition that really lives is the globalised mix of east and west that's in the charts of these countries like the Bulgarian 'chalga' music for instance. Even in rockmusic there are people of around 40 who believe bands like The Strokes and The White Stripes are the future of rock 'n' roll while these bands in my opinion are only preserving the punk-tradition, like a replica of how things were in a museum.Of course, it's a matter of taste if you like computerized traditional melodies on technobeats or the acoustic blend of a century ago, and I can perfectly understand people who prefer the live restaurant music which is being replaced by the convenience of CD's, but to me it's a snapshot of how the tradition was at a particular time. Some African tribes don't write things down because it's unlike life itself, which is everchanging. Personally I have nothing against preservation itself and I can even enjoy it, but this so-called bad influence of globalisation made this music sound like it's presented on this CD to begin with and it now brings us bands like the Secret Chiefs 3 and Mezarkabul (and atrocities like Enigma and such, but I guess I have to live with that). You can complain that the Hungarian czardas have disappeared but in the discotheques the youth dances to Hungarian techno which you may not like but which is the tradition that actually is living.Having said all this doesn't mean I don't like folkmusic of a hundred years ago! Hungarian gypsymusic can be very melodramatic and I was a bit sceptical when I bought the disc. I trusted Trey's taste and it turned out well: Danubius stays perfectly on the good side of the line. Like the bandmembers have various cultural backgrounds originally coming from Hungary and Moldova as well as Americans, the music comes from various parts of the Balkan. Romanian, Bulgarian and Hungarian pieces are punchy, energetic and virtuoso. Maybe not yet in the league of Taraf De Ha´douks but I guess that's a bit too much to ask from anyone. Most pieces are instrumental, but a few vocals pop up too. Slow dramatic doina's end in orgasmic frenzies equally well-executed although they have to be careful with speed, I think they are pretty much at their tops in the fastest parts.As said before this a traditional disc, very entertaining and pleasing to the purists and just plain old acoustic folklovers like myself. People who only want to listen to 'innovative' music need to stay away from it.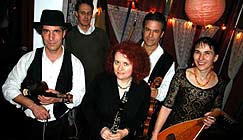 Danubius - n/t
Head-honcho Trey Spruance (Mr. Bungle, Secret Chiefs 3) is a self-professed fan of folkmusic from the Balkans. The signing of the traditional Californian Bal...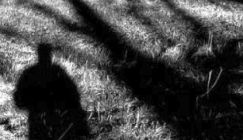 TenHornedBeast - Into The Deep & ...
Forming in the early 2000's TenHornedBeast is a British project that creates a rather distinctive blend of black ambience, doom, dark soundtracking ele...