Vargrwulf - Release-(Infinity series part 1) [Sweet Solitude - 2011]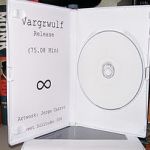 'Release ' is the first release in the Infinity series which sees worldwide HNW acts attempting ambient and experimental forms of walled noise. This release finds Louisiana based HNW/ Harsh noise project Vargrwulf( aka Joseph Gates also of Slaughter-Fetus, R.S.P, Peiste and runner of Violent Revolution International) offering up a wonderfully constricting, taut and detailed slice of long form ambient HNW matter.

The single track on offer here comes in just over the seventy five minute mark and it finds Gates offering up a very tight and taut collection of muffled, crisp static and slowed down noise textures that a laid out in a very compelling yet tense manner. The 'wall' starts out with a faded, slightly smudged and muffled judder pattern that weaves out a dense yet suffocating map of ambient noise. By the just over the ten minutes mark Gates starts to add in layers of crisp 'n' crackle bound smaller static tones, which are knitted over the top of muffled and slightly smudged judder. The remaining hour or so of the track finds Gates unreeling these two elements together in a compelling yet highly tense manner. In the tracks last moments we return to just the muffled judder. All told this is a very worthy and rewarding release, which shows Gates trying something a bit different and more controlled/stripped than his usual brutal and lo-fi take on the HNW genre.

So all in all 'Release' is another fine addition to both the growing ambient HNW scene and the great Infinity series. I'm looking forward to seeing if Gates next Vargrwulf release continues in a similar ambient HNW manner.






Roger Batty