Whitewater Orgasm - Noisexual [Bored Bear Records - 2010]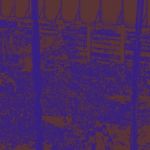 Whitewater Orgasm are a mysterious project from Finland who create overloaded, atmospheric and often high pitched seared Hash noise matter that's littered with pained and disturbing screams. "Noisexual" is seemingly the projects third release and it comes in the form of 3inch CDR.

The 3inch CDR offers up four track in all that last between just over the four minute mark to just shy of the nine minute mark a piece. The tracks move from grating and perverse electro dwells that ripple with high pitch noise tones, onto thick bruising almost walled noise like billowing and raging hovers, through to blow-out and evil psychedelic drone sheens, onto clanking and noised-up lo-fi electronics that have an overloaded and damaged 1970's independent movie soundtrack vibe to them, through to wavering and sickly guitar and synth harmonics that pop out through the tracks noise flesh ever so often. And on top of all of this sonic churn these really unsettling screams, bays and grunts, that appearing in I guess 70 per cent of the tracks runtime. It's to describe this element as a mixture of pained female or high pitched male screams, deranged blacked metal gabbling and oriental like extreme punk baying. The whole thing has a very harrowing, atmospheric and unsettling vibe about it, and at times it feels like it could be lost recordings of some unhinged 70's serial killer cult who found a load of old electronics and is torturing thier victims while they torture their lo-grade and murky sonic equipment.


Whitewater Orgasm is certainly a project that has a distinctively disturbing, retro and blown-out lo-fi feel to their sound. And I can see "Noisexual" appealing to those who enjoy there noise with harrowing, pained yet atmospheric edges.






Roger Batty