Jazkamer - Matthew 28:17 [Pica Disk - 2010]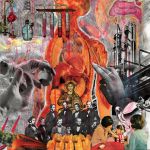 Matthew 28:17 is the eighth instalment in the ambitious 'Jazkamer 2010' project that succeeded in its aim of releasing 12 new albums, one for each month of last year. Recorded just a couple of months earlier than it was released it sees Jazkamer pared down to its essential duo of Norway's John Hegre and Lasse Marhaug.

Despite its biblical name, the album's track titles allude, in the main, to space exploration (supported by a suspicious statement that all profits from the album's sale will be donated to NASA!). But the sonic forces at work throughout the album come closer to heavy space rock than the music of the spheres. This is particularly evident in the first two pieces - the opener, whose name knowingly references both Buzz Aldrin and Albert Hofmann, finds a hoovering swarm of blasting electronics almost drowning out a psychedelic guitar soloing, as if Hendrix's more wayward and arrhythmic extended jams were accompanied by Merzbow. Amidst the strong noise there's a great degree of stereo separation with crusty edges of distortion swimming around the room forming a billowing cloud. As the aimless soloing rests the effect is like that of soaring engines on a small aeroplane as it dives uncontrollably towards the ground, smoke pouring from its tail. The second piece, 'Cosmic Cookies' continues the turbulent theme in the same fashion, but by the third track, 'Put Hegre in Orbit', a cavalcade of scribbled jazz noodling on guitar brings us firmly down to earth as it competes to be heard above a dense electric fog, so unremittingly frenetic the whole becomes a static roar despite the fretboard frippery.

And on earth we stay, as 'The Nudes' buzzing mesh of electronics imitates a huge fire that Hegre's spurts of flailing guitar fail to extinguish before the epic final track (Space, Stars, Earth, Planets and More) slips down a notch in intensity. It starts by hovering like an engine turning over for the first half of its fifteen minute length, before getting into gear and steering across a severely uneven terrain. Half-way to the journey's end a radiant throb of organ tones steadily breaks through the din, and, ultimately, as the ears are afforded enough time to fully focus on the emerging keys, the effect is surprisingly soporific, the senses having been truly flooded to the point of slumber.






Russell Cuzner