Sand Snowman - Nostalgia Ever After [Beta Lactam Ring - 2010]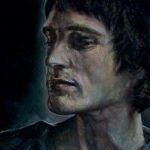 "Nostalgia Ever After" is a familiar sound to those who have followed the psych folk underground within the last 5 years. This disc is a spell book of tracks that opens up with two folk rock inspired tracks invoking a late 60's feel, but still with a very modern indie rock sound.

Getting past these first couple of tracks the album turns to a more delicate and melodic direction with songs reminiscent of something that would accompany a fantasy story or nostalgic visions of peaceful forests. The mood set throughout this album could be described as psychedelic only because the instrumentals are arranged quite artistically throughout the span of the album and sudden changes in the tone create disorienting, but pleasing shifts of melodies. Only certain instances was I really moved by some of these tracks, but the overall feeling of the album comes off as too familiar and just another release that is neither good nor bad. Tracks such as "An Evening in the Fall", and those with a similar feel make me love this, but then those like "Hemlock Garden" and "What's your poison?" kind of throw me off because I was really feeling comfortable with the othermelodies and ultimately decided that although the tracks could be considered within the same genre, the style was too different to enjoy if listening to this album from start to end.

There is certainly much to be enjoyed here, but in some instances the album fails to show any deviating from the standard psych-folk/folk rock formula. Though to some people such a feat could be considered a good thing as this album is more for someone who regularly listens to this music. "Nostalgia Ever After" is perfect for that escapist's longing for a more fantastic reality.