Alexander Hacke - Doomed [Potomak - 2009]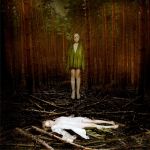 When playing as part of Einstürzende Neubauten for the last 30 years, it could sometimes seem a little incongruous to see Alexander Hacke barechested on stage, arms windmilling around his guitar as he accompanied his more subdued and sophisticatedly besuited colleagues. So it comes as no surprise to find heavy rock a bit further to the fore throughout some of his scarce solo releases such as 2005's Sanctuary. However, his love of the power chord has never been more explicit or unadulterated as on 'Doomed', a clear, unashamed tribute to the doom metal genre.

The main focus of this release is a piece called 'Ascension Doom' that starts the disk in its original recorded form and ends it with a live version. The opener sees Hacke alone in the studio distilling the doom metal style to its essence - a simple, slow cycle of tenderly sustained chords played on a richly distorted, down-tuned axe, copied note for note without deviation by an even lower end bass, while hi hats plot a loping pace joined by the steady, regular boom bap of kick and snare, lacking fills or solos throughout its 19 minutes. Later, sparse percussion from tubular bells help the repetitive, determined march to suggest a hard-earned, manly triumph, like a victorious return from a costly battle. But the real intention behind the piece is best evoked by the string-like synth layers that emerge subtly half-way through, their ascending tones unfurling around each other to describe an upward journey to the heavens. The piece was originally conceived as a soundtrack to a manipulated hyper-real photomontage by Tina Winkhaus' called 'Too Late' that is reproduced here as 'Doomed's cover. It shows a young female's body, prone and lifeless on a deforested floor, while her spirit is seen to pass upwards through ghostly impressions of green trees that are also no more. 'Ascension Doom' perfectly complements the picture, with its feint field recording of the great outdoors only noticeable at the beginning and end but otherwise consumed by the dark, ominous and unswerving procession into an irreversible fate. The live version would be almost identical if it weren't for FM Einheit's drumming that, while never taking centre stage, certainly is more spirited and less funereal, using more variation to keep the audience focussed and making up for the lack of the original's tubular bells.

Sandwiched in between these two lengthy versions are two tracks that neatly complement the doom theme. 'Born Too Late' is an unplugged cover of the Saint Vitus anthem, seemingly recorded live in the studio where a resonant acoustic guitar strums along to Hacke's melancholic, Americanised vocals while Einheit's metal spring and power drill scribble brief accompaniments (real heavy metal, no less!). And 'Deeper and Deeper', while a solo track composed and performed by Hacke alone, seems immediately familiar in its authentic 'Masters of Reality' era Sabbath stylings spread thickly as heavy lurching riffs and hissing cymbals describe a "time of desolation, in a place of total darkness".

The disc is great fun, if not frustratingly short with over two thirds of it taken up by 'Ascension Doom's two versions, perhaps indicating the limits of Hacke's patience with working in someone else's idiom. But given the success with which this usually more wildly creative musician has authentically captured a genre's sound, let's hope we can look forward to more mutated forms further down this enjoyably dark path.






Russell Cuzner