Beefcake - Hôte [M-Tronic - 2002]The German duo Beefcake is back with a quite special release, this time on the French label M-Tronic. Besides four new tracks, Hôte contains five remixes plus some additional multimedia material. I'm glad to see that this is different from a "normal" album, since we've already got three masterpieces released, and I think it was time for a change. When hearing the first track, simply entitled Hôte #1, I hear some slight evolvements in the Beefcake sound too; more micro- & glitch sounds are incorporated here, and the drum 'n' bass beats are dropped in favour of a more detailed and laid-back sound. The multifaceted sound is still there of course and this is definitely not a big change, so there's no worry for listeners who long for more cinematic sound textures and chaotic electronic beats from Beefcake. The first track is remixed by Displacer, who gives it an even more glitch touch, but also more accessible beats. Definitely something that made me look out for the Displacer album which is also going to be released on M-Tronic.

Hôte #2 is more like the stuff Beefcake did before, but this must be one of the best tracks ever by them. Dark ambient sounds in the background build up the atmosphere, but are constantly dominated by hectic drum 'n' bass beats. The percussion here might even head towards Venetian Snares craziness. Electronicat tears the original to shreds with his hardcore techno remix, powered by a strong 4/4 bass beat already causing numerous complaints by my neighbours. The third track (guess how it's called?) may seem like a relief after that remix. Slow, relaxing and atmospheric are words that describe this piece, strengthened by a female vocal sample perfectly placed between the other sounds. It's still not mainstream trip-hop or something, because the strangeness in the music is still there; the way how the beats, samples and ambient parts are constructed is very different from most other artists in the experimental electronic music genre. The remix of this track is done by (to me unknown) Dither, with a slightly more experimental touch: there's more emphasis on breaking the simple 4/4 percussion.

Hôte #4 is probably the most experimental track on the disc (at least those made by Beefcake), but it's very calm as the previous song. The samples are only a bit more deconstructed and constructed again in an out-of-the ordinary way. And then... A Venetian Snares remix... For those still unfamiliar with this Canadian breakcore artist, you don't know what you're missing! And this piece of art proves again that Aaron Funk is hotter than hot in the electronic music scene. The title Crazy Funky describes exactly what this remix is about, totally messing up the original with hard bass beats and not-to-follow cuts and noisy outburst. Pretty hilarious as always. The three-panel digipack (limited to 1000 copies) also contains a bonus track: a remix by the first song by the cult act Zoviet France, which turns out to be a melancholic ambient piece without any beats. Seems inappropriate, but actually it fits the release pretty well, especially as ending.

Although I don't think this release is absolutely essential to Beefcake's discography, it's a exceptional good release. The remixes add a lot of variation and I'm surprised that the remixing artists aren't afraid of ripping the original apart. The multimedia part with a screensaver, some wall-papers and a video is also worth the purchase. To learn a bit more about these German sound artists, read the article here.






Justin Faase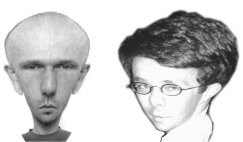 Beefcake - Hôte
The German duo Beefcake is back with a quite special release, this time on the French label M-Tronic. Besides four new tracks, Hôte contains five remixes plu...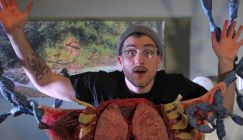 Lucky Cerruti - Of Not so Friendl...
New York-based Lucky Cerruti is one of the up-and-coming directors in the underground horror scene. Since 2019 the theatre actor turned director/ writer/prod...