A.R.GH - Santiago [Bored Bear Recordings - 2010]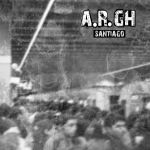 "Santiago" is the second release from Santiago based noise project A.R.GH, and the 3inch mini cd offers up two twelve minute tracks of very dense and muilti-layered noise recordings that take in :the sounds of the city, junk metal textures, crowd noise, and even some harmonic/ musically elements too.

The label and artists quote HNW as a possible name for what we have here, but really there's too much shifting textured layering and movement going on here to it call it a true 'wall' in the HNW sense. I guess its best described as a very dense mix of: highly active musique concrete, electro and slightly industrial noise making, junk metal and genreal thick sonic texturing. I guess the closet comparison would be the work of dense sound artist, noise-maker and percussionist Jarrod Folwer- yet A.R.GH is often more controlled and clever in his weaving of his dense mass of sound than Folwer. You quite often get to make out individual elements and tones in both of the two tracks here. I also rather like the way sometimes you get this harmonic shopping centre muzak drift through each of the two tracks dense sonic masses. And ever so often you get quite playful/ to manic easy listening motes drifting in too and especially on the last track "(No) Time to Relax" where you find vibe type textures and an almost ambient like harmonic drift in it's hammering and manic make-up of the track.

So if you enjoy dense, detailed and shifting noise with often quite playful and buried harmonic traits "Santiago" is certainly for you. I look forward to hearing what this new and quite original sounding project does next.






Roger Batty