Die Reitenden Leichen - Feast [World Nihil - 2008]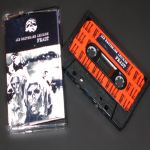 "Feast" was the first release from German HNW project Die Reitenden Leichen (which means The Riding Corpses in English). This C20 tape was released in 2008 & was ltd to 25 copies.

On offer here are four (two tracks per side) rather short and sharp excises in brutal wall making. First up we have "Smudge" which is the longest track on offer here at just over the six & a half minute mark. The track opens with a mixture of feedback clogged stop/start noise rolls and drifts of thinned grey static muffle. By the two minute thirty mark a more juddering and stuck static feel has raised in the track , through it does still move up to thicker noise rolls too. It's an 'ok' opener, through at times it does move more towards straight up Harsh noise making. The second track on side one is "Grim Sugar Part 1" and this just slides in under the three minute mark. The track starts out with a thick and nasty sounding juddering tone that Die Reitenden Leichen forces at you in quite an intensely rewarding manner. Sadly it strips it's self down a little after about a minute to a more weedy purr, though thankfully it rolls back on the intensity fairly soon, though then sadly the track ends. So great start and mean sounding judder just a pity he could'nt have dumped the weedy purr and made the track twice or three times as long.

Flipping over the side two we have "Grim Sugar Part 2" which comes in at just over the three minute mark. The track starts with a sample from 1981 Italian zombie movie "Nights of Terror(aka Burial Ground) and it's notorious scene were a dwarf eats his mothers breast. Then we drop into a nice low down judder that quickly builds up layers of more judder. A great start, but sadly the track keeps pulling back and moving it's juddering tones around in quite an unrewarding manner; again it feels more like textured and judder bound harsh noise instead of HNW. Lastly we have the just over six minutes of "Ghost Galleon", and this is by far the most rewarding track here as Die Reitenden Leichen rolls out a roaring wind tunnel tone that's barbarically skipped over by juddering sometimes muffled bound static crunch 'n' crust.

So "Feast" is an debut release that has some interesting and at times well executed ideas, but sadly on the whole the best elements are moved on too quick. Only the last track is the one fully rewarding track out of the four tracks on offer here.






Roger Batty