Claudio Parodi - The Mother of All Feedback [Extreme - 2009]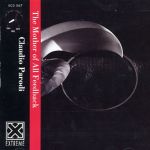 On Cache Cache off Sawako's Yours Gray, the Japanese experimental musician captures the sounds of fellow artist Toshimura Nakamura performing at the GRAIN gallery space in Japan from various points in the vicinity of the venue; Nakamura's sine tones carry far, and the high frequency squeals can be heard at quite the distance still, far from the place where the piece is performed. It's a sort of magic, the way in which these high frequency tones move through air, stone, earth, and transform and are transformed by its environment at the same time. As I pop in The Mother of All Feedback by Claudio Parodi, its high frequency tones that bore directly into my skull from the get-go put a wide smile on my face; the potential of transformation that lies within them is inevitably exciting.

Claudio Parodi is an Italian classically trained pianist turned experimental electronician, who, with The Mother of All Feedback, delivers his third release through Australian record label Extreme, known for releases from the likes of Otomo Yoshihide, Maju, Nobukazu Takemura and Muslimgauze – and, of course, the (in)famous Merzbox. It's no surprise to see Parodi finding a home with these guys, as his music very much seems to breathe the same kind of conscious, reasoned experimentalism as many of the other releases on this label. It's music of ideas, maybe even more so than music of music – music that sits alive and breathing on your shelf by virtue of it having been arrived at intelligently. That is neither to be taken disrespectfully of this music – as though it were contrived, artificial – nor of music which is, arguably, arrived at through sensibility, not sense – yet it is a valid characterization, and one which potentially says a lot about the music itself.

The Mother of All Feedback consists of three pieces composed using feedback modulators; A Room, using an "older" modulator; Outside a Locked Door, using a "more sophisticated" one, and L'Assedio, composed via "the polyphonic use" of the last one. As expected, the three pieces, all but the last indexed for, well, skipping whatever annoys the crap out of you, each differ significantly in sound and character. A Room, using the oldest feedback modulator, sounds most basic, if not banal. It is a work composed nearly entirely of high frequency tones waving around, sometimes toned down a couple notches to produce subtle creaks and crunches; however, most of it is unadorned, cheerless squeal – sounds so familiar to anyone who ever fed an effects pedal back into itself. There's a hint of romanticism in it – the lone cry of a dying breed; as Parodi expresses it in the liner notes, this old modulator – aptly called Mother of Feedback, of course – given the opportunity "to express all the nuances she is able to put out". Yet Mother's range is a limited one; her language lacks vocabulary; her voice is void of life. A Room is, beyond its idea, not truly captivating; the high pitched squeals die off quickly, somberly, and Mother's farewell speech, unfortunately, does not enthrall.

As Outside a Locked Door kicks in, however, Parodi's palette – or his newer modulator's – immediately gains colour. The piece is still characterized by a plethora of high squeals, yet their tone seems more varied; slight hints of reverb add roominess and life. Moreover, the range of sounds Parodi produces here is much more varied; again, we hear creaks and crunches, but also taps, clicks, rumbles; the piece is more imaginative, manages to tickle my brain a bit more, and ultimately stands as a slightly more fascinating experiment than A Room. The monomanic character however, with its inevitably slight scope and limited sonic range, can become a bit taxing; Parodi seems not so much concerned with the music, but rather with the idea behind it; the feedback modulator as an end, not a means; making noises, not noise. On L'Assedio, finally, Parodi goes all out. Layers of squeals and beeps and modulator wankery are piled on top of one another and make for what is, musically, the most achieved piece on the disc; it has a momentum and tension to it that is absent in the other pieces, and it's eerily disorienting in just the right way. It ends the album in an accomplished manner, though it does little to erase the slightly underwhelming feel left by the opening pieces.

Ultimately, The Mother of All Feedback is probably not so much an album, but instead just one product of the more important underlying idea, which could equally well spawn thousands. It's an experiment worth taking notice of, but which does not necessarily call for close and repeated listening. The pieces are characterized by disorganization in a way that is almost slightly unattractive; accidental and haphazard without achieving a product either surprisingly more humble or epic than its input – instead, it's matter-of-fact, just that, just feedback modulators. While The Mother of All Feedback, in the end, is undeniably an album of potential, I personally wouldn't mind hearing that potential being realized.






Sven Klippel