Mass Graves - They Wait... [Self Release - 2010]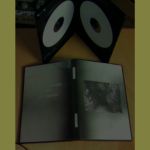 Mass Graves is a HNW project that's themed around Ghosts & paranormal activity. The man behind the project is Missouri USA based Jeff Landgraf whose also in the more straight forward horror influenced HNW project Oblive. "They Wait.." is the projects first release and it's theme from an abandoned orphanage near where Landgraf lives in St. Louis- that's purported to be haunted by the ghosts of many dead children.

The album consist of two CDR's with each disc featuring one long seventy minute 'wall'. The disks are packed in double DVD case and fittingly on the fount cover is a picture of some woodland with some creepy figures and faces peering out of the darkness/foliage. There's basic texts on the spine and back cover where there's just a list of the title of each discs- which keeps it all very creepy and mysterious. So onto the 'walls' with-in; the first disc is entitled " Watching Through The Trees" and it's seventy minute 'wall' is built around a constantly looping and circling crusty wall texture, which is nicely mid-paced through-out and has a low down crackling fog type feel to it. The track it's self is rewarding enough and does conjuring up quite a ghostly & bleak feeling. But sadly the whole disc is marred by been recorded and mixed much too low, so as a result you have to have the volume right-up to even vaguely hear what's going on here. Sure I get it's meant to be creepy and low to follow the projects concept, but when you can barely hear the thing- it's a bit ridiculous and frustrating.

The second disc/ track is entitled "Lurking In The Hills" and this seventy minute 'wall' is a bit more juddering and grating in it's feel, having an almost industrial feel about it. Like the first disc it's fairly fixed and unrelenting in it's brooding path, and I guess it would feel well suited to a walk around a creepy and abandoned steel works. Again the tracks rewarding enough and keeps you interested and focused right the way through, but sadly just like the first disc is once more recorded and mixed at a very low volume- which really lessen the effectiveness of the track. You can hardly let it engulf and block out the world around you(as all good HNW should) when you can barely hear the track.

So "They Wait.." has an interesting theme and it offers up two rewarding enough and consistent 'walls' , but sadly the whole thing is rather marred and let down by low, weak volume and mastering of the two discs.






Roger Batty