I Dreamt of Her Beautful Tentacles - Concrete Vamp [Toxic Industries - 2010]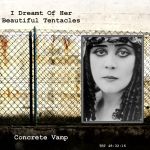 'Concrete Vamp' finds this Danish HNW project offering up three tracks and fifty minutes worth dense and seared 'wall' matter that's both ear carnal melting and often quite moorish.

I think the album has some sort of slight 1920's or 1930's feminine film theme about it as firstly there's a dark and doe eyed picture of a female 20's or 30's actress on the front cover, then of course there's the albums title as early female film stars were often called Vamps. And lastly track one starts out with a happy-go-lucky vibe heavey, brass and string slice of film soundtrack sample which could have come from a silent movie and been played while a couple were having a playful, carefree and almost comic dance with each other. It's a pity really that this element only stays around for a minute and a half of the tracks nine minutes as it does sound very neat and quite original with a thin sheen of noise over the top. Anyway the rest of the track is still very rewarding in it's own right and consists of a 'wall' that's built from layers of crisp, looped and weather static textures which sound like they could have been made from layers of vinyl skip, jump and buck of an old gramophone record.

Onto the second 'Untitled' track and the 'wall' kicks in with a nice mid-pace to quite fast, roaring furnace meets speeding stream train wall of noise- which rather nicely rolls and ultimately flattens you over it's unrelenting and unforgiving near fixed twenty minute 'wall' of barbaric and crushing noise attack. The track stays it's brutal and fixed course though-out, with very slight shifts in the layers of noise texture were sometimes it will feels slightly more roaring and at other times more rolling and repetitive train wheel like.

Lastly we have the third ' untitled' track which kicks-in for another near on twenty minutes of crushing and thick wall matter. This 'wall' is fairly similar to lasts track 'wall' in it's thickness and fixed mid-paced progression, but it has a more ripping and bass lined feel at it's centre which gives you feeling the feeling of walking through underground tunnels as five or six bull dozers and machine rip and tear at the ground some ten or fifteen feet above you. All three tracks here have there moorish and entrancing moments, but I think this is the one I liked the best of the three for it's head ripping, engine growling and earth ripping intensity- it's just so great when the more bass like noise elements hammer down around you like your stuck in a slow monition rock fall rain.

So another rewarding, brutal and head-ploughing example of HNW matter from this relativity newcomer on the scene. Really looking forward to hear what this project does next.






Roger Batty