Hatred In Eyes - Nothing To Condone [L.White Records - 2009]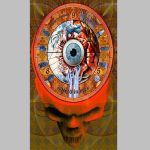 Hong Kong based 'Hatred In Eyes' may have quite a clichéd Power Electronics name, but this ep is an rewarding and at times quite original sounding mixture creativity seared PE with some sombre, muffled & unexpectedly emotional string loops.

The ep opens with 'EFD I' which is all about muffled, wind swept and hacking static grained slightly eastern European string textures which brings to mind bearded Russians scampering alway from blood soaked battle fields. By track number two, which is the title track, we're into more conventional PE territory with slogging exploding electronic tones mixed in with layers of muffled and pained vocals, yet the track still seems to maintain some forlorn and melancholic feel of the first track with-in its guts. Track four ' S.I.C.K' starts out with just stripped juddering electronics; before the layers of muffled, pained and slightly hurt vocals are poured over and the feed back judder loop meets boiling radio interference churned drones. Lastly in 'EFD II' we return to the sombre and morose string elements of the first track- this time the sound is more hopeless and rundown as echoed and heavily muffled vocals are added over the top with a mixture of drilling electro tones, machine purrs, pained electro drone and of course the string elements. The track has this really effectively emotional, yet damaged air about it that you wouldn't usually expect to find on a PE album.

So 'Nothing To Condone' is an PE ep that shows some quite original & creative moments along with some quite emotional and mournful touches too. It certainty won't convert you to the PE course, if this is a genre of noise you don't like already; but if like myself you enjoy more creative and different takes on PE this is well worth hunting down.






Roger Batty