Shining Sex - Tender Flesh [Zvukovina - 2010]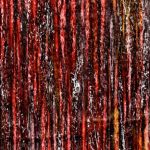 Shining Sex is another HNW project from the highly prolific and multiple project connected Richard Ramirez(of Werewolf Jerusalem, Black Leather Jesus ,An Innocent Young Throat-Cutter, Vice Wears Black Hose and many other projects). 'Tender Flesh' is the third release from this project and it is influenced by Spanish sleazy and horror director Jess Franco 1998 film of the same name which tells of a couple who are invited to an island to play sex games, but end up been hunted down and killed.

The CDR offers up a single twenty two minute track which finds Ramirez giving the listener a very hypnotic, rewarding and interlocking tone 'wall' that keeps you locked in and focused through-out it's running time. The 'wall' starts out as a mixture of two mid-pace rolling, crunching and crisp static tones which nicely make a thick net of tone around you. By the three minute mark one tone has dropped-out to be replaced by a dry, buzzing and drilling drone that really seems to penetrate deep into you. Pretty soon the other tone, that remains from the start of the track, becomes a lot more agitated and jumping in it's feel and the wall once more becomes very tight and inpentrble with Ramirez knitting these wonderful tense and often quite complex patterns in the juddering, jittering and slightly bucking sonic landscape of the wall. As the track goes on we see Ramirez pulling out of the hat: thick bass like throbs tightly enclosed by stuck static jitter loops. Static skips, jumps and slow monition tone snow falls feed over jaw drilling deep dwells. Seared and juddering maps of static patterns that are suddenly overlaid by other layers of tone in a most rewarding yet disconcerting manner. Really Ramirez keeps you on your toes through out the track wondering were he'll twist next, yet the track always keeps firmly to it's HNW wall construction, depth and sonic weight.

Truly this album/track is a great, great 'wall' construction which stands as one of my favourite Ramirez release thus far. And it was one of the most impressive and detailed yet still 'wall' like HNW releases your likely to come across this year…but act quick as it's only ltd to 30 copies!






Roger Batty