Peiste - Blood Sac [Violent Revolution International - 2010]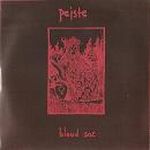 'Blood Sac' offers up a lengthy caustic drone track which takes in some Harsh Noise Wall like dwells latter on it it's life. Peiste are a US male and female duo that features Joseph Gates(Slaughter-Fetus, Vargrwulf & RSP) & Vanessa (Slaughter-Fetus & Bast).

The 80 minute track starts out with a grey bass feedback like drone 'n' drag that emanates this brooding and sinister mush of throbbing tone. As the track progresses more layers of fuzz, feedback and electronic smarts are added to the main bleak drone and by twenty five minute mark we're in just about in Harsh Noise Wall territory; as the sound has been built so thick, airless and pressing with the original drone just about being heard through the weight of sound. By the half an hour mark things have lessen and loosened slightly as we move out of the thicker and 'wall' like feeling with layers of radio station drift mixing with purring 'n' muffled feedback and the original bass throb. The rest of the track alternates between grey throbbing and feedback grain, and thicker and wallish dwells. The track as a whole is 'ok' , but feels a little too long and at times very repetitive, and more than a little dull in places as the same grey drone is looped out over and over again. The more wall like moments are quite nicely done, but on the downside the radio station dwell 'n' drifts elements are very amateurish and badly grating in a annoying way.

On the whole it's a fairly average and unexciting slice of caustic drone making with dwells in thicker more nastier HNW water. Really this should have being cut to half of it's hour and twenty minutes running time and it would have worked lot better. As it stands there's just not enough interesting or rewarding things going on here to keep you sitting through the whole 80 mintues lenght.






Roger Batty