Jamie Saft - Black Shabbis [Tzadik - 2009]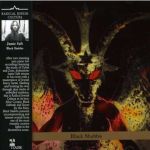 'Black Shabbis' finds the usually jazz & Dub focused Jamie Saft making a devil loving & often ritual hued Jewish heavy metal record that goes from mean 'n' moody, up to doomed metallic's, though to speeding yet controlled trash-outs, onto more tuneful metallic lined matter and beyond. It all makes for a very varied, enjoyable and at times quite tongue in cheek, yet intelligent & knowing metal ride that mangers nicely to blanced riff dramatics, brooding organ tones & lots of creativity.

Things start off rather subdued and un-metal like with surf guitar 'n' slightly dub yet doomed like organ runs of 'Black Shabbis—The Trail of Libels; yet it set's the tone nicely with it's down turned almost tuneful funeral bobbing air. Then we're squarely shot into metal territory with 'Blood' which sounds like a bizarre meeting between speeding Slayer via 80's harmonic & widderling guitar metal with a touches of Jewish melody throwing in & great over the top cookie monster vocals. Later on we have the gloomy yet flashy church organ runs & up pace/ dramatic Sunn like doom riffing of 'Der Judenstein (The Jewry Stone' which is under tied by a very eastern and epic air. And towards the end of the album we have melody heavy chug 'n' soar of 'Remember' which mixers indie rock, 80's metal, eastern/ Jewish tinged melodies lines and great smouldering female indie rock vocals from Saft's wife Vannessa. As you can see there's a real playful, creative and varied edge through-out the album, yet Saft always mangers to keep very true to the music's metal roots & never becomes too overtly flash or show-offish.

So if you fancy a very musically precise yet 'true metal' record that's rich with atmosphere & a often epic feel; through can also be playful & devilish too then 'Black Shabbis' is certainly for you. Lets hope this won't be the last we hear of Mr Saft in a more metal frame of mind.






Roger Batty