Shield Your Eyes - Shield Em [Gravid Hands / Saddam Hussein Records - 2009]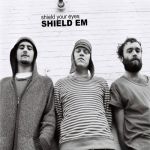 Shield Your Eyes are three stalwarts of southern England's post-hardcore scene that grew in response to developments that spread across the States throughout the late eighties and early nineties from Washington DC's Dischord Records (Rites of Spring, Nation of Ulysses) to Texas' At The Drive-In. A principled scene that took old school hardcore's socio-political dogmatism and cast it internally, bringing about a more intense, introspective range of sentiments reflected by punk's maturing musicianship.

The DIY ethic remains a strong tenet of the hardcore scene and strongly informs Shield Your Eyes' stripped back, raw, no nonsense approach. Throughout, the guitar is uneffected, the drumkit is small but loud and the bass is warm and solid. Written in four months and recorded over just three days, this pared approach, lacking any studio-bound frills, offsets the often hectic, polyrhythmic interplay between lead guitar passages as they wander into jazz territory and syncopated drums filled to the brim with splashing cymbals. This jerky dish of temperamental time signatures tumbles onto your plate with a loose but wildly passionate service, seasoned with grounded bass. The emotionally broken whine of the vocals is usually obscured by the contrasting frenetic choruses and more stabilised, heads-down verses, but in Shield Em's rare spells of calm, a clear English accent is revealed bringing to mind Robert Wyatt, but even higher in pitch (as on the album's only ballad, 'Torn Apart on the Details').

Though masters of their game, their purist proposition of 'get it down quick' live play can feel a little stretched over the course of an album with so little modulation beyond the compositional interplay from a set menu of three to four ingredients. Unsurprisingly then, Shield Em sounds like a practice tape (albeit a polished one) from an authentic, spirited band that come into their own on stage rather than on disc. And yet, on some tracks, like the closing 'Sandy', when the well-rehearsed stop/start patterns rest for a while and a single time signature is maintained for more than a few bars, Shield Your Eyes allow themselves to settle into an almost pop-like phrasing and soulful groove that extends their minimal hardcore set-up beyond its apparent limitations.






Russell Cuzner