Various Artists - Eleven Notes In Black [Mask Of The Slave Records - 2009]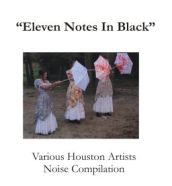 'Eleven Notes in Black' is a compilation of Houston based HNW, static crunching & general noise artists compiled by the scene's most world wide know & respected name Richard Ramirez(Werewolf Jerusalem, Vice Wears Black Hose, Black Leather Jesus, ect).

As the compilation title suggests there are eleven tracks in all on offer here, which run between just under the two minute mark to the near on ten minute mark. And through mainly the tracks here do tend more towards the harsh, often crunching & thick wall like noise sound that most will recognizable from much of Ramirez work; the discs is varied & brutally/ caustically enjoyable through-out. A few of the stand out moments come in the shape of : S.P.L.T's 'We Use Guns' with it's near four & half minutes of juddering & jerking metallic staple gun stop 'n' start, feedback after burn & whistling. The doomed thick bell like droning tonalities & growing noise roar of The Last Rapes 'Defensive Rendezvous' which summons up a great feeling of a eerier people-less town thick with dread. In The Land of Archer's 'Rise R'lyech' which is built around a bright white & painful jittering tone, buried dialogue snippets, storm roars & an soured sort of occultic glow.

So a very consistent & mostly rewarding compilation that often brings to light some of the less know projects with-in the seemingly large & prolific Houston noise scene & with the tracks lengthy been mainly relatively short( by HNW standards) you get chance to get a taster of lots of different projects. To find out more & buy direct drop in here.






Roger Batty