Jaga Jazzist - A Livingroom Hush [Smalltown Supersound - 2002]Electronic jazz, future jazz, fusion jazz, nu-jazz, post-jazz, post-rock, pop, lounge, avant-garde, drum 'n' bass... Call it what you like. Norwegian 10 piece big band Jaga Jazzist uses all these styles without losing a grip on the music itself. It's a little miracle that Jaga Jazzist hasn't conquered whole Europe yet; Norway was its first victim, but won't take long for the other countries to fall in love with the band. Jaga Jazzist's weapon: "A Livingroom Hush", already released in Norway by Warner Music in 2001, but now ready to take on the rest of the world thanks to the Smalltown Supersound label.The Jaga Jazzist collective is currently boosting the renaissance in popular Norwegian music, together with other fine acts such as Röyksopp, Cinematic Orchestra, and Biosphere... But the group, with an average age of 22, goes further in blending styles than everybody else. The instruments used include guitars, bass, vibraphones, saxophones, flutes, clarinets, trumpet, trombone, tuba and keyboards, all kept together by drum(computer)s and percussion. They have similarities with the Chicago experimental scene such as Tortoise and Isotope 217, referring to the subtle and more laid-back parts on "A Livingroom Hush". But Frank Zappa's twisted charisma shines through as well, effectively layered with convulsive and energizing drill 'n' bass creations like Squarepusher. The main part of J.J.'s music remains 70's jazz music tough, which makes the music both nostalgic (for the Coltrane LP-owners for example) and modern.Jaga Jazzist's instrument arsenal is huge; still the line-up consists of five percussions and five horns, to put it simple. Martin Horntveth, virtuoso on the drumcomputer, is more or less the "leader", sprinkling electronic beats over the horns, guitar and vibraphone. The opener "Animal Chin" is undeniably such a track, full of energy and free flowing creativity perfectly balanced. It does sound unique, and is more than just 10 talented people put together. The two saxophonists Lars Hornveth and Jĝrgen Munkeby have thought out compositions with depth and diversity, never forgetting to let the members of the collective free their musical creativeness; their bizarre fusion made not sound what it seems... "Made For Radio" for instance has a clear Latin percussion influence, as "Airborne", but the latter - one of the outstanding tracks together with the earlier mentioned "Animal Chin" – is based around a bass clarinet solo. "Going Down" is more funky, "Lithuania" is a constant fight between the acoustic percussion and the drumcomputer, while the little (and short) jewel "Midget" – without doubt my personal favourite - easily defeats Aphex Twin in all its hyper-activeness.Oh yes, Jaga Jazzist is indeed a sensation you cannot afford to miss. It has something for everybody, be it electronic music, jazz, or whatever. "A Livingroom Hush" is an exquisite banquet of drumming, thrilling compositions and striking ambiences. This winning combination is highly recommended.






Justin Faase




Jaga Jazzist - A Livingroom Hush
Electronic jazz, future jazz, fusion jazz, nu-jazz, post-jazz, post-rock, pop, lounge, avant-garde, drum 'n' bass... Call it what you like. Norwegian 10 piec...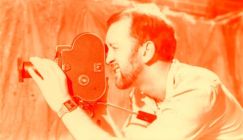 Powerhouse Films - Of Magic, Myth...
Between the late 1960s and mid 2010's UK Portsmouth-based filmmaker Michael J Murphy helmed thirty one micro low-budget productions- these moved throug...