Domotic - Bye Bye [Active Suspension - 2002]Domotic is a fairly new French artist active in the electronic pop area. After a 12" released last year, "Bye Bye" is (unlike the title announces) the first CD release, and also the first CD on the Parisian Active Suspension label. The man behind Domotic is Stephane Laporte, with help from Renaud Berthou on the production.Electronic pop is something hard to describe in words, but it is exactly what Domotic sounds like. "Electronic" because the sounds are programmed and come from both analog and digital keyboards. "Pop" is appropriate because of the melodic synth arrangements and simple tunes. But actually, it's more than just that. Of course, the obvious influences from electronic music forefathers like Autreche and Oval are present. Domotic does try to be different, and that is already something admirable. The varied sounds on this cinematic album, spread onto 8 songs and 42 minutes, are build from soft and easy-to-the-ear tones and laptop beats. The tracks are catchy to the ear, but after I few listens you'll notice that "Bye Bye" is actually quite complex. "Western Airlines" is such a track, and so is "Smith Kline", which even has influences from 1960's music as The Beatles and The Beach Boys. Furthermore, songs like "Consilium_Industri" and "Isometric Unit Construction" show a sarcastic reference to technology in the title. But this is also translated musically, by combining both analog and digital keyboards and keep and obvious contrast between these two during the whole album. Interesting to hear, this contantly renewing fight between analog and digital, old and new."Bye Bye" is not an album I recommend to check out when you're new to the electronic pop genre, but I'm sure this release will find its way to the electronic audiophiles. It's good, but not shocking.Picture © Philippe Raoul 2001






Justin Faase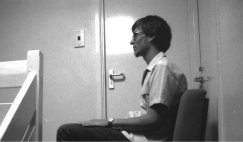 Domotic - Bye Bye
Domotic is a fairly new French artist active in the electronic pop area. After a 12" released last year, "Bye Bye" is (unlike the title announces) the first ...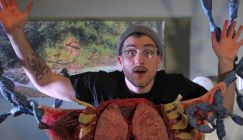 Lucky Cerruti - Of Not so Friendl...
New York-based Lucky Cerruti is one of the up-and-coming directors in the underground horror scene. Since 2019 the theatre actor turned director/ writer/prod...