Various Artists - Radio Rivendell Compliation Vol 2- The Book of War [Waerloga Records - 2008]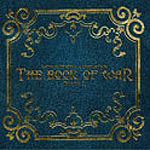 The excellent Radio Rivendell compilation returns for a second volume of fantasy and role playing based music, giving the listener a mix of all manner of dramatic and filmtic music going from: bold bombastic to emotion swooned strings, to Celtic tinged harp and violin mixers, to war hungry brass 'n' horns and fighting percussion, to chugging guitar/ string power, to operatic lined grace. With of course all manner of sound effects and fantasy type sounds to enhanced the tracks.

This time around the compilation has a fully realized fantasy story that all the songs are built around- it's the story of brave and valiant Captain Angus and his involvement in a great battle to keep an mystical kingdom free from evil. Packaged in a digit-pak made to look like an old book with an inlay booklet detailing the stories arch with-in each piece of music, with many of the pieces been purely created for this compilation. Some of the highlights include here are; Sully Koba's opening track Captain Angus with its flute and military like percussion lined start that grows and soars to dramatic mix of strings, harp and bombastic percussion- you can almost picture the heroic Captain Angus galloping over vast green landscapes. Newcomers Lost kingdoms The Bridge over Gruhodok with its elegant yet wavering mix of harpsichord, church organ and flute to make a sombre yet pretty melodic light classical wonder. Gargrim The Lair's No Way Out with it's manly spaghetti western vocal chorus and clashing swords percussion, dwelled over by a majestic mix of synth strings and brass heroics.

Really there's a termendouse amount of enjoyable and involving and of course highly atmospheric and dramatic material on offer over its 75 minute playing time, with only the odd real misstep. Truly a great compilation which has had real thought, love and joy of fantasy put into every sonic grain of it- here's hoping for volume 3.






Roger Batty